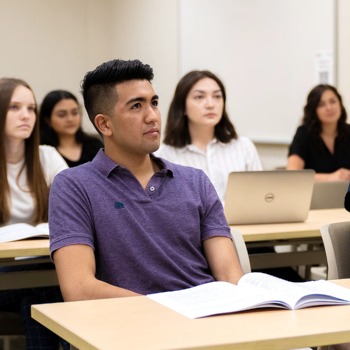 Career Development Workshops March 2022
Learn how to begin exploring careers and gain insight into job search and employment preparation by attending Career Centre workshops this March. Sessions also qualify towards the Career Development Certificate and the Engagement and Employability Certificate, a valuable addition to your resumé and Laurier Experience Record.

Log in to Navigator to view the workshop schedule and register. 
Career Topics
Career Planning
Tuesday, March 1
| 11 a.m. - 12 noon (In Person Waterloo)
Monday, March 7
| 10 - 11 a.m. (Online)
Tuesday, March 15
| 3 - 4 p.m. (In Person Brantford)
Friday, March 18
| 11 a.m. - 12 noon (In Person Waterloo)
Tuesday, March 22
| 12 noon - 1 p.m. (In Person Waterloo)
Thursday, March 31
| 11 a.m. - 12 noon (Online)
Resumé Writing
Friday, March 11
| 10 - 11 a.m. (In Person Waterloo)
Tuesday, March 15
| 4:30 - 5:30 p.m. (Online)
Tuesday, March 22
| 12 noon - 1 p.m. (In Person Waterloo)
Thursday, March 24
| 10 - 11 a.m. (Online)
Monday, March 28
| 9 - 10 a.m. (In Person Waterloo)
Cover Letter Writing
Friday, March 11
| 11 - 11:30 a.m. (In Person Waterloo)
Tuesday, March 15
| 5:30 - 6 p.m. (Online)
Thursday, March 24
| 11 - 11:30 a.m. (Online)
Monday, March 28
| 10 - 10:30 a.m. (In Person Waterloo) 
Job Search Strategies
Tuesday, March 1
| 10 - 11 a.m. (Online)
Thursday, March 10
| 11 a.m. - 12 noon (In Person Waterloo)
Friday, March 11
| 11 a.m. - 12 noon (In Person Brantford)
Friday, March 18
| 10 - 11 a.m. (Online)
Friday, March 25
| 10 - 11 a.m. (Online) 
Monday, March 28
| 11 a.m. - 12 noon (In Person Waterloo)
Interview Success
Thursday, March 3
| 10 - 11 a.m. (Online)
Monday, March 7
| 9 - 10 a.m. (In Person Waterloo)
Monday, March 14
| 10 - 11 a.m. (In Person Waterloo)
Wednesday, March 16
| 11:30 a.m. - 12:30 p.m. (In Person Brantford)
Thursday, March 31
| 10 - 11 a.m. (In Person Waterloo)
LinkedIn
Tuesday, March 1
| 12 noon - 1 p.m. (Online)
Monday, March 7
| 11 a.m. - 12 noon (In Person Waterloo)
Monday, March 14
| 9 - 10 a.m. (Online)
Wednesday, March 23
| 11:30 a.m. - 12:30 p.m. (In Person Brantford)
Friday, March 25
| 9 - 10 a.m. (In Person Waterloo)
Tuesday, March 29
| 5 - 6 p.m. (Online)
Network with Confidence
Thursday, March 3
| 11 a.m. - 12 noon (In Person Brantford)
Friday, March 4
| 10 - 11 a.m. (In Person Waterloo)
Tuesday, March 8
| 12 noon - 1 p.m. (In Person Waterloo)
Wednesday, March 16
| 11 a.m. - 12 noon (Online)
Monday, March 21
| 10 - 11 a.m. (Online)
Thursday, March 31
| 9 - 10 a.m. (Online)
Transferable Skills: Mobilizing Your Skillset
Thursday, March 3
| 9 - 10 a.m. (In Person Waterloo)
Tuesday, March 8
| 11 a.m. - 12 noon (Online)
Thurday, March 17
| 9 - 10 a.m. (In Person Waterloo)
Tuesday, March 22
| 10 - 11 a.m. (In Person Waterloo)
Workplace Expectations: Professionalism Basics
Thursday, March 10
| 10 - 11 a.m. (Online)
Monday, March 21
| 9 - 10 a.m. (In Person Waterloo)
Thursday, March 31
| 10 - 11 a.m. (In Person Brantford) 
Additional Supports for Students and Alumni