C3 Innovation Labs
C3 Innovation Labs (C3IL) is a hub of socially innovative and community-engaged experiential learning opportunities in the Faculty of Arts. C3IL offers the use of specialized facilities, coaching resources and strong collaborative networks to bring together the three 'C's – campus, city and community.
You will build stronger communities, make a direct societal impact and learn from the experience. You will be challenged to create, do and learn in multiple ways. Through courses and internships, past opportunities have included:
Designing and launching a social enterprise to address local or global, social and environmental challenges.
Hosting a community consultation in downtown Kitchener.
Designing ways to promote democratic and transparent financial governance.
Creating a promotional plan for encouraging building owners to list their properties on a newly formed municipal heritage registry.
Consulting for or developing public, social or private sector or community projects.
At C3 Innovation Labs, we strive not only to inspire and empower our students in their education and careers but also to nurture a future generation of change-makers and social innovators who will lead our communities, our cities and our planet to a more resilient, vibrant and sustainable future. Our programs fall under a number of different streams that can be taken individually or together.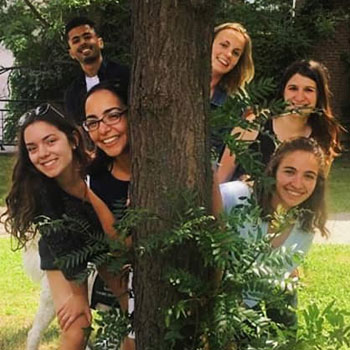 Students' Association
The C3 Innovation Labs Students' Association offers relevant workshops and events to build your skills not only during your time at Laurier but to set you up for success after graduation.
Photo Credit: Marisa Francone '18, Community Engagement Option
Social Entrepreneurship
In the Social Entrepreneurship Option, you will have the opportunity to study global examples of transformative social enterprises. Learn the fundamentals of developing a social venture and learn to launch your own social enterprise under the guidance of Laurier faculty members.
Community Engagement
The Community Engagement Option will challenge you to deepen your understanding of issues within the community. You will participate in civic and community engagement and processes, and gain skills to become effective community leaders.
Capstone Urban Sustainability Project
Through the Capstone Urban Sustainability Project course (GG465), you will take on the role of consultant for the City of Cambridge. As part of a team, you will compete with your classmates to develop a real-world project for the city.
CityStudio
Through the CityStudio courses, you will work closely with staff at the City of Waterloo to help them design and implement creative programs and initiatives to meet the demands of a vibrant and fast-growing city.
Summer Mentorship
The Summer Mentorship Program gives you the opportunity to continue pursuing your class project or venture throughout the summer. Apply for a paid internship working with one of our community or city partners, or participate as a social entrepreneur utilizing Laurier's C3 Innovation Lab facilities for office space, resources and mentorship.