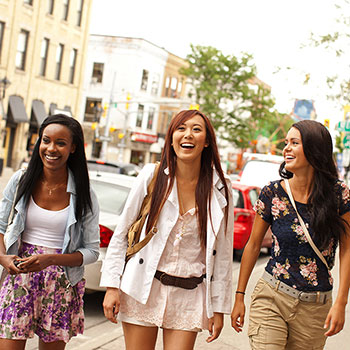 Ultimate list of things to do with out-of-town visitors
Now that you've settled into your new schedule, perhaps it's time to invite friends or family to town to see your new home and to catch up.
Check out our ultimate list of things to do with out-of-town visitors for both Brantford and Waterloo.
Brantford
Be the host with the most. Make sure your out-of-town guests — whether they're long-distance relatives or old friends — experience all Brantford has to offer.
Whether you're rolling out the welcome mat for guests to stay for an afternoon or an entire weekend, here's five ways to show them Brantford.
Get Outdoors
Boost your mood and earn your steps by catching up with friends or family over a long walk around the city. Getting outside for a walk can also lighten some of the stress your coursework may cause!
Stroll along the winding Grand River in the heart of Brantford on the Gordon Glaves Grand River Loop trail. Or pack a picnic and head out to the Brant Conservation Area (open May to October).
Stay In and Cook
Nothing seems better than catching up with friends over a good meal. Why not stay home and cook? Take your guests with you to up pick up fresh, local produce — and maybe a tasty, locally made pie — at the Brantford Farmers' Market, open Fridays from 9 a.m. to 5 p.m. and Saturdays from 7 a.m. to 2 p.m.
Channel Your Inner History Buff
Visit the Canadian Military Heritage Museum to explore the history of the military local to Brantford and in Canada.
Step back in time at the Bell Homestead to witness the location where Alexander Graham Bell invented the telephone. Bell's invention reshaped the world, so why not pay respect with a phone selfie at the historic site?
Get on the Grand
Explore the Grand River from the seat of a canoe or kayak. Paddle under the bridges in downtown Brantford and be surrounded by forest along the bluffs at Tutela Heights. Local outfitters will hook you up with everything you need to experience Brantford from the water (including lessons if needed).
Experience Small-Town Charm
If you have access to a vehicle, experience the heart of rural Ontario by exploring Brant County's surrounding communities. Take in the award-winnning Paris Fair, savour local food at the St. George AppleFest, or, if you're sticking around to host visitors over Thanksgiving weekend, check out the Burford Fall Fair — where you'll feel right at home!
Waterloo
Expecting some family or friends for the weekend? Or are your hometown friends coming to visit?
Show them the real Waterloo — your home away from home, where small town vibe meets big city drive. You'll be surprised at what's out there in our amazing city.
Catch Up at a Cozy Café
After weeks or months of not seeing each other, you're bound to need some time to catch up. This is best done over a good cup of coffee.
Head uptown down King Street to find the quaint Princess Café or hip Settlement Co. A hidden gem is Seven Shores Community Café, nestled on Regina Street.
If you're meeting your visitors at the Kitchener train station (or sending them off), Smile Tiger Coffee Roasters, one of the city's newest roasters, is located right near the station.
Take a Cooking Class
Skip the crowd at the farmer's market and instead opt to freshen up your meal ideas by learning new skills in the kitchen at Relish Studio or The Culinary Studio. Both offer hands-on group cooking classes.
The Culinary Studio, tucked away in Belmont Village, also offers up the freshest, tastiest lunches to take out or eat in.
Get Outside
Getting outside has such a positive effect on everyone's mood, and it's inexpensive! Get in your daily steps by taking your out-of-towners on a walk through Waterloo Park, along the Walter Bean Trail or through the Laurel Creek Conservation Area. If you have access to a vehicle, venture out to the 4.5 kilometre loop trail at Snyder's Flats.
See a Show
Steps away from Laurier's Waterloo campus is the city's leading live music venue, Maxwell's (fun fact: founder Paul Maxwell is a Laurier alumnus). Take in a show at this no-frills, typically sold-out venue that's always hosting big-name artists.
Experience the Grand River
See the city from a canoe or kayak. Paddle your way downstream on the Grand River through the Waterloo Region. Local outfitters can set you up with rentals (and lessons if needed), and shuttle you to and from access points.