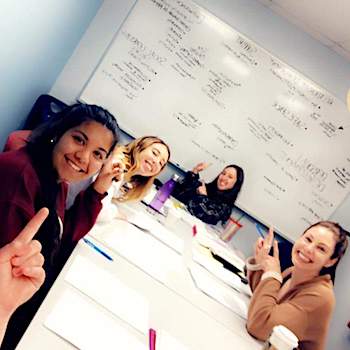 Apply now for PS492: Applied Community Research
Applications are now being accepted for PS492: Applied Community Research. This unique course is offered through the Centre for Community Research, Learning and Action (CCRLA) with support from the Laurier Students' Public Interest Research Group (LSPIRG) and Community Service-Learning (CSL). The deadline for application is  April 30, 2023, at 11:59 p.m. 
PS492 is an eight-month experiential course that blends in-class lectures with a CCRLA internship that involves a field placement and capstone project. Teams of students work closely with a faculty member, mentor and community partner, with support from the CCRLA associate director, to design and implement a research project that addresses an identified practical community need. The internship concludes in April with an academic report, a community deliverable and a Community Research Day event where you will present your results.
This internship will help you learn to:
Develop and foster community partnerships.
Plan and implement a community-based research study.
Work collaboratively as part of a research team.
Understand the ethical implications of your project and complete a Research Ethics Board process.
Collect and analyse quantitative and qualitative data.
Complete a participant recruitment process.
Write up and present results for both academic and community audiences.
You will gain:
One 1.0 course credit (PS492).
Real-world training in community-based research methods and design.
Community service-learning experience for your Navigator record.
How to Apply
Please download the application and email your completed package to psychadmin@wlu.ca.
Be sure to give yourself time to provide us with a PDF of the following:
A completed application form
Two reference names
A summary statement
A copy of your unofficial transcript
Before applying, please review the undergraduate calendar entry for PS492 to ensure that you have met the prerequisites for the course. Note that these may be waived at the discretion of the Psychology department.
Email your completed application form and all supporting documents to psychadmin@wlu.ca.
Selected applicants will be contacted for a group interview in June before a final selection of interns is made.
What we look for in candidates:
Excellent written, verbal and interpersonal communication skills.
Ability to work effectively and collaboratively with team members.
Detail-oriented, with excellent time management and organizational skills.
An awareness of the principles of social justice and community-based research.
Familiarity with research methods, both qualitative and quantitative.
Experience working and/or volunteering with a community organization.
Capacity for self-directed learning and willingness to take initiative.
If you do not meet all of these requirements, please do still apply and tell us what you can offer and what you hope to learn.
Learn More
Read about past PS492 group's experiences: