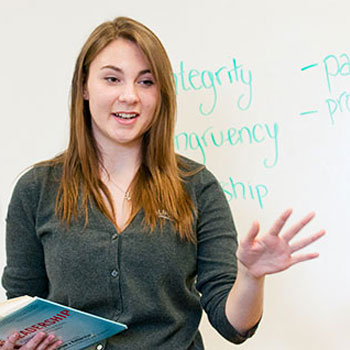 Nominate an inspiring student for the Laurier Student Teaching Award of Excellence
Do you know a Laurier student who has made an incredible impact on the lives of other students through teaching?
The Laurier Student Teaching Award of Excellence is your opportunity to recognize them for their contribution.
The Student Teaching Award of Excellence is designed to recognize a wide range of students who demonstrate excellence through their teaching practice and positively impact the learning and development of Laurier students.
"This award is an exciting opportunity for the entire Laurier community to nominate student teachers who have had a significant impact on enhancing student learning at Laurier," says Joseph Beer, director of Teaching, Learning and Development.
The Laurier Student Teaching Award of Excellence has three categories: one for undergraduate students, one for master's students, and one for doctoral candidates.
Teaching activities that demonstrate a nominee's commitment to supporting student learning at Laurier can include, but are not limited to:
Leading tutorials and seminars.
Lab demonstrations.
Teaching in a one-on-one setting.
Mentoring and/or coaching others.
Providing student feedback.
Nominees must communicate the intentionality in their actions and how their teaching approach impacts the learning experience of fellow students at Laurier.
There is an open nomination period from now until Jan. 13 during which all students, faculty and staff are invited to nominate a student who exemplifies teaching excellence at Laurier.
Nominators will be asked to provide the nominee's name, department and briefly describe how the nominee's teaching contributions have positively impacted student learning at Laurier while citing concrete examples.
From the prenominations, a group of nominees who meet the award criteria will be selected and contacted by Teaching and Learning on Feb. 5, and asked to submit a complete teaching portfolio by March 15. Nominees will be supported throughout the process of creating and submitting the teaching portfolio.
For more information, visit the Laurier Student Teaching Award of Excellence web page.