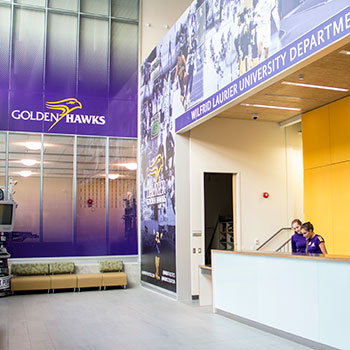 Athletic Complex closures for fall 2019
There are a few major closures happening within the Athletic Complex on the Waterloo campus this fall. We apologize for any inconvenience this may cause.
Keep an eye on the Laurier Athletics website for any changes to the scheduled closures and other updates.
Change Room Closures
The men's and women's change rooms are closing for maintenance.
The men's change room will be closed beginning Friday, Aug. 30, 2019 and are expected to reopen Thursday, Oct. 3, 2019.
The women's change room will be closed from Thursday, Sept. 12, 2019 to Monday, Oct. 7, 2019.
Members are asked to use the visitors change rooms located next to the main change room doors or the washroom facilities on the main floor. There is no access to showers at this time.
Any members with belongings in lockers are advised to remove them prior to the closure dates as access to change rooms to retrieve these items will not be granted. If you are unable to remove your belongings prior to the closure dates, email the coordinator of facilities, Wes Van Luven, at wvanluven@wlu.ca or speak to a staff member at the Hawk Desk to arranged an approved time to pick up locker belongings prior to Monday, Sept. 15. If belongings are not removed prior to this date, access will not be granted to retrieve them until construction is complete. Include your name and locker number in all emails.
Pool Closure
The pool is closing Friday, Aug. 16, 2019 and will remain closed for maintenance until mid-October.
Check the Laurier Athletics website for updates and an official reopening date.