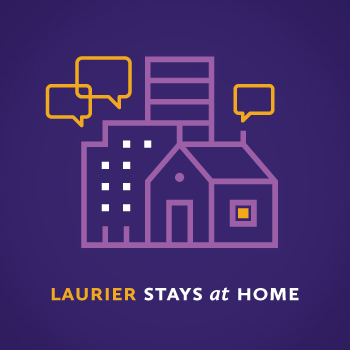 Virtual events and activities keep Laurier students socially connected
Isolation, loneliness and boredom are some of the many feelings Wilfrid Laurier University students are experiencing as they adjust to remote learning.

To keep students feeling connected, Laurier's Off-Campus University Students group (LOCUS) has launched #LaurierStaysAtHome, a series of online and virtually led social events and activities. Online movie groups and games including virtual bingo are just some of the events planned during April and May. All Laurier students are invited to participate regardless of campus or year of study.

"The abrupt ending to students' campus experience has resulted in feelings of loss for their end-of-year celebrations, increased isolation and loneliness," says Jess Calberry, manager of off-campus first-year initiatives at Laurier. "We've shifted our programming to an online environment to create new ways for Golden Hawks to remain connected while practising social distancing. We're excited to hit the digital ground running with our #LaurierStaysAtHome programming for students."

Below are upcoming #LaurierStaysAtHome events and activities open to all Laurier students. Additional events will be added, so check back often or follow LOCUS Brantford and LOCUS Waterloo on Instagram.
Upcoming Events and Activities
Below are upcoming #LaurierStaysAtHome events and activities open to all Laurier students. Additional events will be added, so check back often or follow LOCUS Brantford and LOCUS Waterloo on Instagram.
Master Chef at Home
Are you making the same thing over and over again while at home? How boring! Get creative with your food, elevate classic staples and really enjoy cooking! LOCUS will announce a "secret staple ingredient" that you should have in your house. Then it's up to you, your roommates and/or your family to make that ingredient shine as either an appetizer, main or dessert - your choice!

Submit a photo of your dish to LOCUS Brantford or LOCUS Waterloo on Instagram between April 27 and May 1, as well as the recipe, and we'll post them and ask our followers to vote on aesthetic and creativity to determine an overall winner.
Event contact: Jess Calberry
Laurier Brantford Boredom BINGO
Open to Laurier Brantford students from April 27 to May 1.

It's important to take care of yourself while social distancing! Grab a BINGO card from Brantford's Dean of Students Office Facebook or Instagram account. Complete all of the tasks and post your finished card to Instagram or Facebook. Tag @laurierbrdos with the hashtag #LaurierStaysAtHome in your post. Completed entries will be eligible for a gift card prize draw.

Event contact: lbstudentsupport@wlu.ca
Avalon: The Online Experience
The Loyal Servants of Arthur are on a quest, but the evil Minions of Mordred are amidst the good, and they wish to destroy their prize. They are well hidden and are colluding in secret. Merlin knows where the Evil ones lie, but cannot reveal his knowledge for he will die if they learn his identity. Can the quest succeed despite the treachery afoot? Join us on April 29 at 3 p.m. and see if you can complete the quest!

Join the fun on Zoom using the meeting ID 648-018-1863.

Event contact: Jess Calberry
Virtual Bingo
Tune into Instagram for live bingo games! To call bingo, comment in the live stream. Your host will ask you to join the live stream to confirm your win.
The next bingo game is April 30 at 2:30 p.m. Get your bingo card at bit.ly/LaurierBINGO and follow @suitandtiebingoguy to play.
Event contact: Mitchell Higgins.
Online Karaoke
Hang out with the LOCUS staff on April 30 at noon and sing your blues away with online karaoke! Check out karafun.com/karaoke to see the extensive song catalogue.
Join the fun on Zoom using the meeting ID 648-018-1863.
Connected Care for COVID-19
Join Laurier's Consent is Golden team for 30 minutes of simple, body-based practices that support grounding, containment and connection in a virtual group format. Previous experience is not required, and all practices are adaptable and optional. Talking is minimal during the workshops.

Workshops take place at noon on April 30 and May 7 through Zoom at https://zoom.us/j/842762976
Event contact: svinfo@wlu.ca
Weekly Netflix Parties
Join LOCUS' Brantford and Waterloo chapters every Friday at noon for a weekly Netflix party. Download the Netflix Party Google Chrome extension in advance and join the party. Party links will be activated by 7:50 p.mm 
May 1: Step Brothers (2008) starring John C. Reilly and Will Ferrell. Join at bit.ly/LOCUSPartyApr25
Event contact: Jess Calberry
The Masculinity Series
Social norms teach men and masculine people to always be in control and never afraid. Because of this, men and masculine people may struggle to communicate their feelings and build meaningful connections with peers. Times like these can amplify these issues and limit outlets to deal with feelings in healthy ways.

This series focuses on four themes -- helplessness, fear, communication and connection -- which will be explored in relation to masculinity and healthy relationships with ourselves and others. The workshops are discussion-based and will aim to create an open, non-judgmental space to share. Come out to one, or to all of them!
Series runs April 28, May 5, 12 and 19. Join through Zoom at https://us02web.zoom.us/j/83410399656
Event contact: svinfo@wlu.ca
Online Euchre Tournament
If you're a fan of Euchre or want to learn, we've got a great opportunity for you! LOCUS will be hosting our inaugural online Euchre tournament on May 6 at 5 p.m. EST. There will be prizes for the top four teams, as well as one randomly selected participant.
Register by May 1 to participate. Download the Trickster Cards app on your phone visit their website.  Open Zoom and use meeting ID 648-018-1863.
CSDEI Newsletter
Stay current with social justice opportunities and initiatives by subscribing to the newsletter created by Laurier Brantford's Centre for Student Equity, Diversity and Inclusion (CSDEI). Shared throughout the week, the CSDEI newsletter aims to be an informative and accessible resource for those engaged with equity, diversity and inclusion. Content includes news, resources, events, campaigns and other meaningful social justice opportunities offered by CSEDI staff and student services, the Laurier community and partners. 
Newsletter contact: Lauren Burrows
Share how you're staying socially connected from home on social media by tagging your posts with #LaurierStaysAtHome.