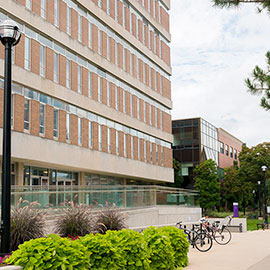 How the library can help you, virtually
All Laurier Library buildings are closed at this time; however, the Online Library is open. The library provides online access to over 1 million electronic resources (books, databases and journals) that are accessible anywhere, anytime. The Library has modified its services to support students based on the University's recovery plan. For a complete list of library updates, please see the Library Coronavirus (COVID-19) Service Update page.
Here is a rundown of important library services for students:
Find Library Resources
The Library provides access to 1.3 million online resources and holds one million print resources that can be accessed through the Library's Omni search system. For overview of how to use Omni, please refer to the Library's helpful videos or the Omni FAQ.
To access the Library's physical items (such as print books), you can order online for pick up through the Library's Books to Go service. Books can be ordered through Omni and picked up at designated service locations at scheduled times. For more information see the Books to Go page.
Book a Study Space
Laurier Library is now providing appointments for bookable study space for students at our Waterloo campus library. The Library has 35 study spaces available on a half-day basis, either from 10am-1pm or 3pm to 6pm, Monday through Friday.
You can book a study space through the University's EventBrite system. Study spaces include single use tables, computers as well as access to public printing and scanning services (using PaperCut software).
Students need your OneCard as well as proof of your Eventbrite registration and SafeHawk Self-Assessment app showing a green 'pass' badge to check in. For additional details, see Bookable Study Space.
Access your Course Readings online
The Library provides support for online course readings for your classes through MyLearningSpace and course pages through the Ares systems. For more information on locating course readings, see How to find course readings and exams on reserve.
Get Help with Your Research
Don't know where to start on a research project? Start at the library. The library offers fully online research assistance. Chat live or meet one-on-one with a librarian who can help find what you're looking for.
Check to see if your course has a course guide to find the information sources you need. You can also refer to library subject guides which also provide helpful resources outlining top research materials for your area of study.
And keep close tabs on the library's events and workshops. Free workshops for student are offered throughout the semester.
Make Something, Online (Maker Space)
The Laurier Library Makerspace has moved online, providing virtual workshops, hosting our Maker Monday drop-in Zoom sessions and consulting with students, staff and faculty on projects for coursework, fun and learning. We're teaching introductory video editing, 3D design, machine sewing, crocheting and more. Check out our Laurier Library Makerspace Online Facebook group and connect with Darin White with all your project and workshop questions, suggestions and aspirations.
Tackle Citations
Citations can be tricky and cumbersome, but they're part of academic writing and the library can help you learn how to cite properly. It can also be confusing to organize and use citations in your work. The library offers free tools to help you automate citations.
Meet Your Librarians
We have librarians assigned to every program subject and campus at Laurier. These helpful folks are an invaluable resource. You can also book a librarian for one-on-one assistance with your research.
Have Questions?
That's a lot of information to take in and you probably have more questions. Your next step is to chat with our friendly User Services staff online or connect with one of our Subject Liaison Librarians.