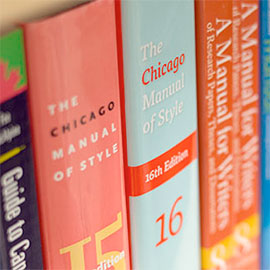 How to access writing support at Laurier
Would you like feedback on a writing assignment? Do you want to improve your writing skills? As a Laurier student, you have access to a wealth of support designed to help you succeed.
The Writing Centre on Laurier's Waterloo campus and Writing and Study Skills Services on Laurier's Brantford campus are accessible, supportive centres that assist students to improve their writing skills – covering everything from structure and argumentation to grammar and citation. Even if you're just looking for bibliography support, they can help.
Both service centres provide drop-in hours for quick consultations or the option to make an appointment for a full 50-minute session. If you are looking to enhance your skills, a variety of workshops are also available throughout the year. As a bonus, many of the writing workshops are eligible for Co-Curricular Record credit.
You can also take advantage of a range of online resources including:
WriteOnline: A simple website that walks you through the process of writing case study reports, lab reports, or reflective essays.
Handouts: For quick access to information on all aspects of academic writing.
Assignment Planner: A tool to help you organize and plan your writing assignments.
In addition to these services, Laurier's Brantford campus provides Live Classroom, an innovative online resource for online or commuter students looking to connect with a peer mentor.
Laurier students are also encouraged to visit the Edna Staebler Writer in Residence, an award-winning writer accessible to the entire Laurier community. During the winter term, the writer offers public lectures, writing workshops and provides one-on-one feedback to student writers.
Check out the wealth of writing support available at your fingertips.