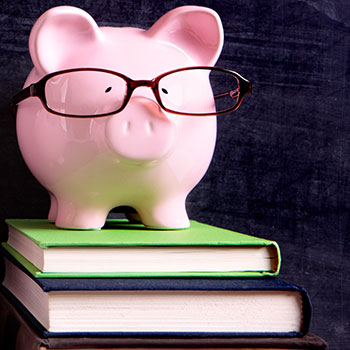 What you need to know about your tuition and invoices
Your invoice for the term is now available. It includes winter 2021 term registration and reflects any changes as of Dec. 7, 2020 at 4:30 p.m. Invoices are static and changes to registration made after this date will not be reflected on this invoice. Anticipated scholarships and awards are granted throughout the year and may also not be reflected on this invoice.
To find your most up-to-date balance, check your Account Summary by Term under the Student Services tab, then Student Account Summary.
Here are more things you'll want to know about your tuition and invoice: 
Your Tuition is Due Monday, Jan. 11, 2021
Payment options are included with your invoice. Additional payment options, including information for sponsored students can be found on the Payments page. A late payment fee of 1.25% will be applied to overdue balances after the invoice due date.
Paying with OSAP
All OSAP funding will automatically be directed to Laurier and applied to your student account to pay outstanding tuition and fees. If your OSAP funding for the winter term covers all outstanding fees, no additional payment is required. If your OSAP funding does not cover all of your tuition and fees, it is your responsibility to pay the difference before the invoice due date to avoid late payment fees.
Note: OSAP funds will only be directed to Laurier if there is a balance owing. If fees are paid in advance, or OSAP is greater than the current student account balance, OSAP funds will be deposited in the bank account you identified on the MSFAA that is registered with the National Student Loans Service Centre (NSLSC).
You will qualify for a reversal of late fees applied to your account if you meet the following criteria:
Your OSAP application is completed, including all outstanding required documents processed and a funding assessment is available by the end of August.
OSAP funding covers all outstanding fees on your student account and is received by Thursday, Feb. 11, 2021.
If your Laurier account balance is more than your expected OSAP funding for the Winter term, you must pay the difference by the invoice due date to avoid late fees.
If you are interested in applying for OSAP, it's not too late! Apply at ontario.ca/osap.
Incidental Fees
In recognition of the disruption COVID-19 has caused, representatives from the university, the Students' Union, and the Graduate Students' Association have worked together to review and set all incidental fees with the goal of providing some financial relief and helping students manage this challenging time. These fees are being charged to support student access to services, including in some cases through adapted and online formats.
Visit the FAQ page for more information.
Financial Support for Students
Figuring out how you're going to pay for tuition can be overwhelming, but it doesn't need to be. There are resources available to support you in funding your education. Check out the Financial Support for Students page to learn more about available supports.