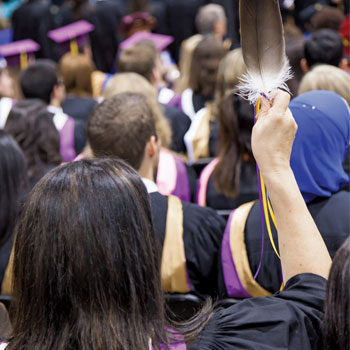 Services for Indigenous students who are preparing to graduate
Are you expecting to graduate this year? Congratulations!
Meticulous planning to ensure you're ready for the big day can be overwhelming – but we got you covered! Start by reviewing Laurier's step-by-step Guide to Graduating, then familiarize yourself with the following convocation services for Indigenous students offered at both the Waterloo and Brantford campuses. 
Indigenous Traditional Attire
Graduates may request to wear traditional Indigenous attire (First Nations, Metis, Inuit), in lieu of a gown, at a convocation ceremony with the permission of the senior advisor: Indigenous initiatives.
If you who wish to attend convocation in traditional Indigenous attire, instead of a black robe, you must submit a formal request by completing the Traditional Indigenous Regalia Request Form. A formal request must be received at least two weeks prior to the ceremony. Once the request is reviewed, the senior advisor will inform the president and the convocation organizers of the decision.
Keep in mind that if you do not seek permission, and attend the ceremony in traditional attire regardless, you may not be permitted into the ceremony as per the discretion of the senior advisor, or a designate in his/her absence.
Students are still required to provide payment of the attendance fee and collect a hood at graduate check-in.