Brantford Residence Buildings
Your year in residence promises to be one of the most memorable and rewarding aspects of your university career – a unique and valuable experience that will serve as a special part of your postsecondary education.
All of our residences in Brantford are apartment-style, which means you have a kitchen in your unit so you can prepare your own meals.
Residence custodial staff cleans the hallways and provides general maintenance, but you are responsible for cleaning your bedroom, living room, kitchen and bathrooms. Each building has shared vacuums you can borrow when needed.
Wireless high-speed Internet access is available in both the bedrooms and common areas, and is included in your residence fees.
Check out the location of our residences on our virtual map!
Expositor Place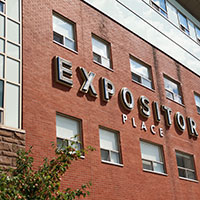 The newest addition to the Laurier Brantford residence community is the Expositor Place, which houses 216 students on five floors in suites ranging in size from three to seven students. In addition to the residence facilities, Expositor Place also contains several student lounges, meeting rooms, underground parking and retail space. Laundry facilities are located in the basement of the building.
Explore Expositor Place
Grand River Hall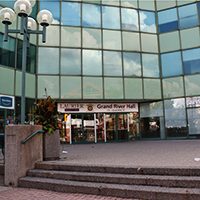 Consisting of both double and single rooms, Grand River Hall houses 150 students on three floors in suites ranging in size from three to seven students. In addition to the residence facilities located on floors three, four and five, Grand River Hall contains classrooms, administration and faculty offices, Service Laurier, and a Digital Library on the first floor. Laundry facilities are located centrally on each residence floor.
Explore Grand River Hall
Lucy Marco Place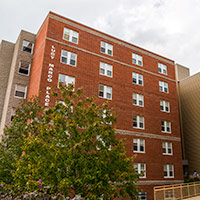 Lucy Marco Place is one of the largest student residence buildings on the Laurier Brantford campus. The building, which is just two blocks from the centre of campus, houses students in 112 single rooms within 28 apartment-style suites. Each four-person suite features two bathrooms, a kitchen with a stove and refrigerator, a living room area with two couches and a table and chairs. Laundry facilities are located in the basement, and all floors of the building are accessible by elevator.
Explore Lucy Marco Place
Post House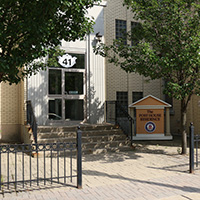 Centrally located on George St., Post House features 57 single rooms, in suites of three, four or seven students on three floors. Post House students also have access to the SC Johnson Great Hall on the first floor and a large study room in the basement of the building. Laundry facilities consist of four washers and four dryers located in the basement of the building.
Explore Post House
Wilkes House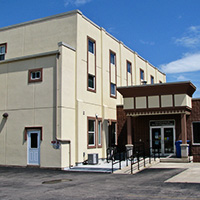 Wilkes House is located on Laurier's "Heritage Block" in close proximity to Post House Residence and the Student Centre, which have heritage considerations in their design and architecture. Wilkes House is a historic building named after one of Brantford's founding families.
Following a complete renovation of the interior and exterior of the building, Wilkes House features 38 single rooms and one double room within seven one-of-a-kind apartment suites. Larger suites housing eight people come equipped with two refrigerators. Laundry facilities are located on the third level.