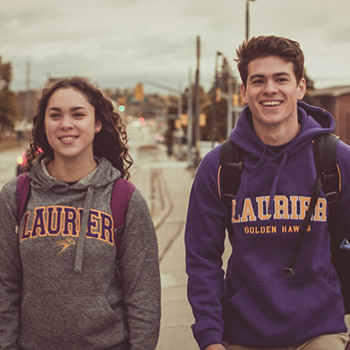 Applying to Residence: First-Year Students
Your fellow Golden Hawks are excited to meet you in person. Don't miss the deadline and secure your spot!
Get the First-Year Experience You Deserve
To be guaranteed a place in residence, you must complete and submit the online application, together with payment of the non-refundable $600 residence deposit, by June 1, 2021. Residence is guaranteed to all students entering first-year studies for the first time.*
What You Need to Do
You will need to use your Laurier username and password to access the online application system.
When We'll Notify You
Most first-year undergraduate students are offered admission to Laurier any time between January and mid-May for the academic term beginning in September. Our online residence application system is open, and we'll usually email your building and room assignment in late July.
Picking Your Preferences
Rooms are assigned based on preferences indicated on your residence application, and room availability. We do everything we can to ensure that students sharing rooms are compatible – that's why the application form asks about your personal habits and preferences.
If you'd like to share a room with a friend, we'll try to accommodate your request. When filling out your residence applications, form a roommate group with your friend and be sure that you follow all the roommate group rules outlined in the application. 
Meal Plans
All students living in residence (dormitory and apartment style) on the Waterloo campus are required to participate in a mandatory meal plan.
All students living in residence on the Brantford campus are required to purchase a residence convenience plan.
*Note:
Students transferring to Laurier from another postsecondary institution are typically considered senior students (with the exception of students coming from CEGEP), and are not eligible for the residence guarantee. If you have attended another postsecondary institution, contact our office for clarification regarding your status when you apply for residence.