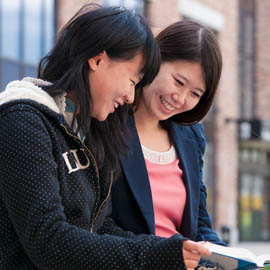 Top Five Things to Do Now to Prepare for Grad Programs in Counselling, Social Work and Mental Health
With a nation-wide lockdown, opportunities to plan for graduate programs might seem limited, when in fact there are still things you can do to get ready! We've compiled this social distancing-friendly list to make sure you stay on track with your plan. Grad school application season comes fast, so plan ahead with these five things:
Research Your Schools and Programs
If your career interests are in counselling and supporting mental health, there are so many different ways you can pursue this goal. It's important to understand which graduate programs will help you achieve your career goals. Now is the time to explore programs to find your perfect fit and to plan for required courses and experiences. Many will have webinars and virtual information sessions to help with your decision making. Here are a few of our favorite research resources:
Get Your Resumé Ready
Many programs will require a resumé or CV as part of your application. Your documents should be carefully tailored to highlight your strengths, education and skills that are related and relevant to human services and support. Need some help with this? Check out our online resumé workshops and book an individual appointment to review your updated version. Bonus – you can use your new version for tip #3 - volunteering!
Volunteer Virtually
With so many organizations moving to digital platforms to continue offering their services, why not step up and volunteer virtually? Demonstrating leadership, adaptability and a commitment to community and cause is an excellent thing (and sometimes a required component) for applications to Human Service, Social Work and Counselling programs. Here are a list of websites that have virtual volunteering opportunities:
Brainstorm Personal Statement Ideas
As part of the application process, many programs will request a frank and revealing personal submission/statement that offers insight into who YOU are (not what you've done) and what motivates you to pursue education in this field. There is a definite relationship between the length of time spent reflecting on your personal statement and the quality of the submissions.

Think deeply about the following questions:
What have you learned or developed as a result of your experiences?
What do you do well, why?
Have you had experiences that demonstrate character, determination, and an ability to recover from setbacks?
What are your thoughts/experiences with marginalization, oppression and social injustice?
Why do you want to be a Social Worker/Psychotherapist/Counsellor?
Book an Online Further Education Appointment
Chat with one of our Career Centre Consultants about graduate school admissions, application components and additional ways to start getting ready. Book an appointment now!