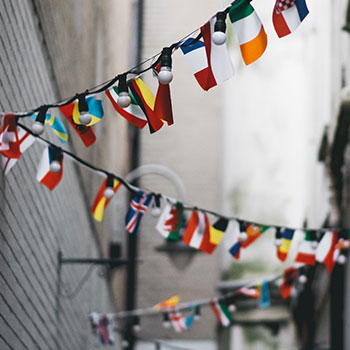 Celebrate diversity and engage globally during International Education Week, Nov. 16 to 20
Even though we can't gather in-person, we invite you to join us for a virtual International Education Week, Nov. 16 to 20. Throughout this week, learn about future travel processes, engage in discussions about important international issues and celebrate diversity. The virtual format allows you to pop in to listen, learn and engage throughout the week.
Laurier celebrates International Education Week (IEW) each year during the third week of November to promote:
Awareness of our diverse community of students, staff and faculty.
The impact of globalization and global systems.
The opportunities that our students have to engage in an increasingly diverse population.
Check Out Our Week-Long Events
A virtual International Education Week provides the opportunity to host guests from around the world who will share international opportunities you can take advantage of in the coming years. Presentations will be delivered live from South Africa, China and more.
Highlights of the week include:
Our first ever virtual International Opportunities Fair.
A week-long series of presenters from partner universities located around the world.
An educational presentation on Understanding and Responding to Xenophobia and Racism in Canada presented by the Centre for Student Equity, Diversity and Inclusion.
WUSC Fireside chat: Empowerment Through Education with Waterloo World University Service of Canada (WUSC) local committees and guest speaker Bina Mehta for a discussion of Forced Migration and Refugee Experiences.
A Lunch N' Learn with the Laurier Punjabi Association (LPA) and the Intercultural Students' Association of Brantford (ISAB).
An opportunity to learn about different cultures, including Brazil, China, and India!
#laurierstandswithinternationalstudents – a student film highlighting the resilience and creativity of Laurier international students studying from abroad and so much more.
Check out the full schedule of events on the International at Home page.
Connect with International Partner Institutions
You can take this opportunity to learn more about universities from different countries. Check out presentations from our international partner institutions throughout Nov. 18, 19th and 20th .
Wednesday, Nov. 18
South Africa, University of KwaZulu-Natal, 9 to 9:30 a.m. ET.
Sweden, Karlstad University, 9:30 to 10 a.m. ET.
China, Beijing Jiaotong University School of Software Engineering (BJTU), 10 to 10:20 a.m. ET
Netherlands, University of Amsterdam, 10 to 11 a.m. ET
Germany, Osnabrück University of Applied Science, 10 to 11 a.m. ET
Germany, Hoschschule Neu-Ulm University of Applied Sciences, 11:30 to 11:45 a.m. ET
Thursday, Nov. 19
France, ESC Dijon-Bourgogne Burgundy School of Business, 9 to 9:30 a.m. ET
Germany, European University Viadrina, 9 to 9:45 a.m. ET
United Kingdom, Swansea University, 10 to 10:15 a.m. ET
Austria, IMC University of Applied Sciences Krems, 10:30 to 11 a.m. ET
France, University of Poitiers, 10 to 11 a.m. ET
Ireland, University of Limerick, 11:30 to 11:45 a.m. ET
United Kingdom, University of Sussex, 11 a.m. to noon ET
Spain, Universidad Francisco de Vitoria, 3 to 3:30 p.m. ET
Friday, Nov. 20
Belgium, Université catholique de Louvain, 9 to 10 a.m. ET
France, Rennes School of Business, 10 to 10:45 a.m. ET
United Kingdom, University of Dundee, 11 a.m. to noon ET
Questions?
If you have questions about International Education Week, contact globalengagement@wlu.ca or Phyllis Power, Manager, Global Engagement Programming at ppower@wlu.ca.