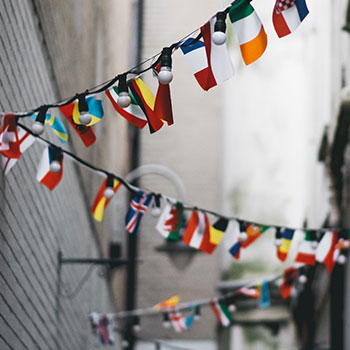 Celebrate International Education Week 2022
International Education Week (IEW) is recognized and celebrated worldwide every third week in November. 
To celebrate International Education Week, we have a full week of in-person and online events across both Waterloo and Brantford campuses to highlight opportunities for global engagement and begin planning for a future exchange term!
International Education Week Events
Monday, November 7
International Opportunities Booth 
11 a.m. - 1 p.m. | Brantford campus in the RCW Lobby
International inspired lunch all week
12 p.m. | in the Fresh Food Co.  
Study Abroad Information Session
2 p.m. | Virtual on Zoom 
Tuesday, November 8
"How To Gain Experience" An International Student Panel
1 - 2:30 p.m. | Virtual on Navigator

During this online event, you can listen to experienced and knowledgeable senior-year students talk about how they got involved with clubs, volunteering, co-op, working on campus, ISWEP jobs, working off campus and more!
WUSC presents International Movie (& snacks!) Night
7 - 10 p.m. | Brantford OM-310 Lounge

Learn more about the Student Refugee Program and how to get involved in the WUSC Local Committee. Sample some food from various interntational cultures. Please bring a donation of feminine hygiene products, winter clothing or non-perishable food items.
Wednesday, November 9
International Opportunities Fair!
11 a.m. - 3 p.m. | Waterloo Concourse
Curious about international exchange opportunities and if they might be right for you? Come meet our current outgoing exchange students and learn about our exchange partners around the world. Find out where your opportunity is and how to get started!
Student Exchange Program Information Session
11 a.m. - 12 p.m. | Brantford OM-310 boardroom

Brantford International Drop-in Lunch
12 p.m. - 2 p.m. |  Brantford OM-310 lobby

International Student Career Advising Drop-in
1 - 3 p.m. | Waterloo - LI Lobby 

IEW Featured Speaker - "Unpacking Opportunities for Global Impact, Ethical Volunteerism + Gender Equality with an International NGO"
3 - 3:50 p.m. | 
Waterloo DAWB 3 -106
Join Taylor Marlow, International Programs Manager at the non-profit organization Youth Challenge International, to learn about HerStart, a program focused on global gender equality, climate action and women's social entrepreneurship.
Thursday, November 10
Pop-up Info Booth
1 - 3 p.m. | Ladaridis Hall
International inspired lunch all week
12 p.m. | in the Fresh Food Co. 
Friday, November 11
Summer Abroad Information Session
10 a.m. | Virtual on Zoom

GESA Movie Night: The Boy Who Harnessed The Wind
5:30 - 7:00 p.m. | Brantford One Market Lounge (1st Floor)  
(Popcorn and snacks will be provided)
Other Ways To Get Involved
International at Home Programming
International at Home programming focuses on bringing global learning and engagement opportunities to you. The programs allow the Laurier community to connect with each other, as well as partner institutions around the world, to build intercultural knowledge and skills, make new connections and foster new friendships. All without leaving the comfort of home!
Tandem Language Program
Through the Tandem Language Program, you'll share and learn language and culture with a peer. Partnerships are based on language proficiency and interest, giving you the opportunity to develop skills in a new language while learning in a social way. 
Intercultural Certificate
Expand your intercultural knowledge and skills by completing the Intercultural Certificate. Modules in the certificate cover topics including concepts of culture, exploring your own culture, intercultural communication, cultural adaptation, and more. And all students who complete the Intercultural Certificate will receive credit on their Laurier Experience Record. 
Hawk 2 Hawk English Conversation Project
In the Hawk 2 Hawk English Conversation Project, you'll be paired with English-language learner students in the LEAF program for weekly conversations in English. The conversations will focus on sharing about your cultural experiences while providing LEAF students with an opportunity to practice their English skills.  
Laurier International Cultural Conversations
Open to international and exchange students, Laurier International Cultural Conversations (LICC) is embedded in HR261: Multiculturalism, taught by Laurie Jacklin, and pairs students for conversations around multiculturalism, race and ethnicity, migration theory, and more. It's also an opportunity for international and exchange students to share more about their experiences.