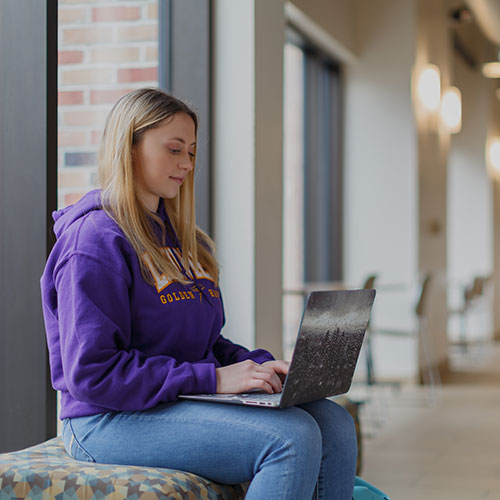 Resources to help you achieve your academic goals
Student success services provide you with the math and stats, study skills and writing support you need to help you realize and achieve your academic goals – whether it be to raise your GPA, strengthen your study skills, or put yourself out there.
Through one-on-one appointments, workshops, and drop-in sessions, these multicampus programs are designed to enhance your academic experience.
To ensure you start the term strong, check out the resources offered to help you achieve your goals.
First-Year Support
Get access to programming specifically designed to help you navigate the transition to university-level academics. First-Year Peer Academic Coaches are a team made up of successful senior students that want to help you succeed in your first year at Laurier.
Connect with a coach through one-on-one appointments and group sessions to:
Help you build a study schedule.
Discuss note-taking methods.
Learn effective study strategies and more.
One-on-One Appointments
Looking to chat one-on-one with a senior student coach? Book a 25-minute check-in appointment conducted on Teams to chat through whatever questions are on your mind.
Topics of discussion may include how to:
Create a useful schedule.
Reduce procrastination.
Read digital text effectively.
Take meaningful notes.
Study for exams.
Peer Academic Coaching Programs (PACS)
Connect frequently with a senior peer academic coach and fellow first-year students to help you develop strong academic skills to succeed in university.
These weekly 80-minute sessions will be hosted on Zoom and are a great way to stay accountable.
Missed the registration deadline? No sweat! Sign up today to be added to a PACS group.
Math and Stats Support
Whether you're taking calculus, economics or any course that's got numbers involved, the Math and Stats team is busy making sure that you have all the support needed to be successful in your quantitative courses. Every week, their schedule is jampacked with numerous drop-in help, directed homework, problem, and review sessions, in addition to the one-on-one appointment option.
Check out the Zoom Meetings tab on the Math and Stats Learning Support in MyLearningSpace to find the relevant session.
Drop-In Sessions
Having trouble with a math problem? Need help with that stats formula? Feel free to drop by with your questions via Zoom and have them answered by a math tutor right on the spot in our informal, peer-to-peer learning environment.
One-on-One Consultation
If you're looking for some extra help, you're welcome to book a 30-minute consultation appointment with professional staff to discuss learning strategies and/or course content via Teams.
Homework and Problem Sessions
To get in the habit of doing your homework and practice good learning strategies, we encourage you to attend our weekly Directed Homework Sessions and Problem Sessions conducted via Zoom.
These sessions incorporate cumulative review, study techniques and time to work on current homework problems to help keep you on track and ensure that you understand the concepts as they are taught.
A full schedule of our Directed Homework Sessions and Problem Sessions can be found on the Course-Specific Support webpage.
Study Skills Support
Developing strong skills and leveraging learning strategies are crucial to your academic success as a student. Our study skills teams are here to help you upgrade your study skills, stay on track and avoid procrastination when the term gets busy through one-on-one appointments, study skills workshops, and online resources.
One-on-One Appointments
Our professional staff and trained peer mentors can help you improve your time management and study skills through one-on-one appointments conducted via Teams.
Topics of discussion may include: a review of textbook reading strategies, effective notetaking, test preparation and study strategies, etc.
ASk Certificate Workshops
The Academic Skills (ASk) Certificate is a collection of workshops and study skills appointments geared towards your academic success. To earn your ASk Certificate you must complete six ASk activities – a combination of study skills appointments and at least five different workshops within one semester. Workshops are focussed on a variety of academic success topics and do not require registration for online webinars.
Online Resources
Check out the Resources webpage for a variety of downloadable resources and videos to help you study smarter and stay organized!
Writing Support
From start to finish, the writing services team is here to support you through your course writing assignments. Through one-on-one appointments, workshops on special writing topics and comprehensive resources, you can become a better writer and editor of your own writing.
One-on-One Appointments
Whether you have a draft, or if you just want to discuss your writing or ideas in depth, we encourage you to book a 50-minute online consultation, conducted using Teams and Google Docs. Use these appointments to help get you started, get feedback before submitting an assignment, or review a past writing assignment to grow as a writer.
The full tutoring schedule for undergraduate, Masters, and PhD appointments starts the week of Jan. 17. Book an appointment soon to ensure you can get the help you need.
Workshops
Learn how to craft a strong academic paper. Our writing team leads workshops on a variety of special writing topics with content ranging from grammar to thesis statements. Attending a writing workshop will help you bring your academic papers up to the next level. Registration is required and all workshops are hosted via Zoom until further notice.
Online Resources
From citation and documentation style guides to how to structure an academic paper, our online resources developed by the writing team are sure to help you throughout your writing process!
Stay Connected!
Follow us on Instagram for daily informational and inspirational content related to your academic success. From weekly workshop lineups to reminders about important academic dates, this account will be your one-stop shop to keep you on track toward your academic goals.
If you have any questions, we encourage you to reach out to our team by emailing studentsuccess@wlu.ca.