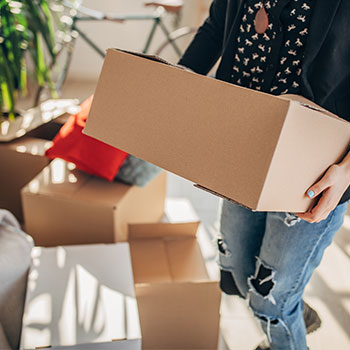 Advice on What to Pack
There will not be enough room to bring everything you own. You'll want to make your new room as comfortable and familiar as possible, so we suggest you pack posters, photos and other small personal items.
What to Pack
You should pack the following:
Mattress topper, bed linens, pillow, and comforter;
Alarm clock;
Robe and slippers;
Desk lamp (no halogen bulbs);
Headphones for personal audio/equipment;
Power bar with surge protection (must be certified for use in Canada);
Personal recreation equipment (roller blades, football, frisbee, etc.);
Computer;
Laundry basket and detergent;
Clothes hangers;
Shower curtain (for those living in apartment-style residence buildings);
Personal toiletries and toilet paper;
Personal-sized garbage and recycling bin (for apartment-style bedrooms only; kitchen bins are provided in apartment)
Cleaning supplies; and
Kitchen items (see below for notes on kitchen items).
Fridge
You are able to bring your own fridge into residence, however it must meet the following specifications:
CSA approved (or equivalent)
Energy star rated
Maximum 5 cubic feet
Some of our traditional dormitory-style residence buildings have built-in desks -- Bouckaert Hall, Conrad Hall, Euler Residence, Leupold Residence, Little House and part of Willison Hall. For these buildings, the fridge would need to be less than 26" in height in order to fit underneath the desk.
If your fridge is left in your residence room after you have moved out, you will be charged a removal fee. This removal fee will be placed as a charge directly onto your LORIS account.
Kitchen Items
Students living in each apartment unit are responsible for bringing their own cookware, dishes and cutlery as well as small appliances (such as microwaves, toasters, kettles). Any small appliances brought into residence must be CSA/ULC approved and are only permitted to be used within the kitchen.

We recommend students pack dishes, utensils, and cookware enough for just themself prior to moving into residence. Then typically on move-in day, students in the apartment would decide among themselves who will bring items that they need for the apartment in terms of small appliances (like microwave, toaster, kettles, coffee makers).
What Not to Pack
Items not permitted in residence:
"Large speakers" and "big" stereo systems;
Subwoofers for computer sound systems;
Amplifiers;
Pets (for more information, see Inclusivity and Accommodations in Residence);
Candles and incense;
Draperies;
Halogen lighting of any kind;
Heaters and heat lamps;
LED lightstrips
Furniture from home, including couches, beds, bean-bag chairs, mattresses, etc. (You are permitted to bring your own office/desk chair.);
Beer bottles and cooler bottles;
Electrical outlet wall tap (octopus plug);
Noise-cancelling headphones; and
Drinking paraphernalia (e.g. funnels, beer pong tables, etc.). 
Insurance on Your Belongings
Laurier does not provide insurance or assume liability for personal belongings in residence. It's advised that you check with your parent/guardian's homeowner's policy and/or your insurance representative to ensure that contents coverage is extended to your residence room.
Note
The student occupying a residence room/unit shall carry all risks property insurance for their own property and public liability/tenant's legal liability insurance during the term of the residence agreement and any renewals or extensions thereof, at the student's own expense. Such policies shall be written on a comprehensive basis with limits of not less than $2 million for any one occurrence. Upon request by Wilfrid Laurier University, the student shall provide proof to Wilfrid Laurier University that such insurance is in full force and effect. The student expressly agrees to indemnify and save Wilfrid Laurier University harmless from and against any and all claims, actions, damages, liability and expenses in connection with loss of life, personal injury and damage to property, or any of them, arising from any occurrence in or about the Residence occasioned in whole or in part by any act or omission of the student or anyone permitted to be in or about the student's room/unit or the residence by the student.