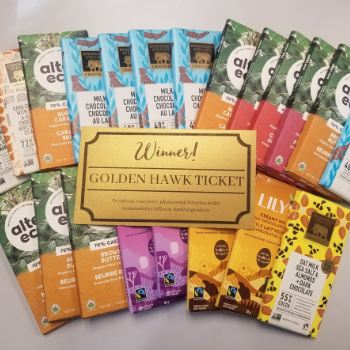 Laurier's Sustainability Office celebrates Fair Trade Campus Week at Waterloo campus Oct. 25 to 29
The Sustainability Office at Wilfrid Laurier University will celebrate Fair Trade Campus Week at Laurier's Waterloo campus from Oct. 25 to 29 with in-person events and an online contest.

Fair Trade Campus Week takes place annually at post-secondary institutions across Canada. Fair trade campuses support fairer conditions and better prices for people in the Global South who grow and make products.

Laurier received a Fair Trade Campus designation from the Canadian Fair Trade Network in 2017 and the university placed second for student engagement during Fair Trade Campus Week 2020.

"As a top sustainability institution in Canada, it is important for Laurier to support the sale of products that are produced by people earning fair wages," says Katarina Milicic, outreach and programs coordinator in the university's Sustainability Office. "It is rewarding to see an increased desire among Laurier community members for fair trade and sustainable products."
Fair Trade Campus Week Events and Initiatives
Fair Trade Product Blitz
Stop by the Laurier Bookstore, Wilf's and Parking and Transportation Services throughout Fair Trade Campus Week for
free samples of fair-trade coffee, tea and chocolate bars
. Enter your name into a draw for one of three fair trade
prize packs valued at $50 each
.
Fair Trade Bonanza
Test your fair trade knowledge at the Fair Trade Bonanza at the
Terrace
and
Fresh Food Company
on
Oct. 26 from 11 a.m. to 1 p.m.
Spin the trivia wheel, answer the question and pick your choice of fair trade treats.
Follow for Fair Trade Facts
Follow
Laurier's Sustainability Office on Instagram
for fair trade facts and thematic posts. Participate in the campaign giveaways and engage with Laurier's Fair Trade Campus Week on Instagram to be entered into a draw for a fair trade prize pack.
Golden Ticket Contest (Faculty and Staff Only)
Charlie and the Chocolate Factory fans: this is your moment.
Distribution Services team members will give out 40 fair trade chocolate bars during their daily deliveries from Oct. 25 to 29. Four of the 40 chocolate bars will contain a golden ticket, which can be redeemed for a fair trade prize pack valued at $40.
For more information about Fair Trade Campus Week and fair trade products at Laurier, email sustainability@wlu.ca.