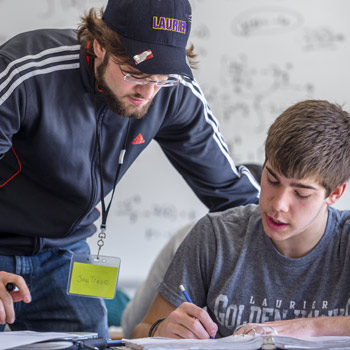 Advice from alumni: How to make the most of your first year at Laurier
We asked our alumni audience on LinkedIn what advice they would give to first-year students starting at Laurier. The response to our post was fantastic and we have highlighted some their advice to you below.
With orientation events over and classes underway, we hope you will give their words of 'golden wisdom' some consideration.
Advice from Golden Hawk Alumni
"Don't let fear of awkwardness or not knowing other students stop you from having a great experience. You're all new Golden Hawks." – Susan Cranston, Arts and Business alumna
"Step out of your comfort zone early and often. Laurier is a great place to really learn about yourself, meet amazing people and grow as a person. Make sure to get involved, join clubs and always stay curious." – Andrew Tatton (BA '15)
"Meet as many people as you can. They will be your best friends for the rest of your life and the best connections you will ever have." – John Davitsky (BA/BBA '09)
"You get out of Laurier what you put into it. There are countless opportunities on campus and in the community so get involved, put in the work and keep pushing." – Danielle Russell (BA '04)
"Have fun! Get involved and share your passions with others." – Heather Coulter (BA '07)
"Don't sit in your dorm room all the time – get out there. But when it comes to classes, take it seriously." – Angie Hindle, Communication Studies alumna
How to Get Involved at Laurier
If you are looking to get involved on or around Laurier's campuses, here are a few webpages to check out: