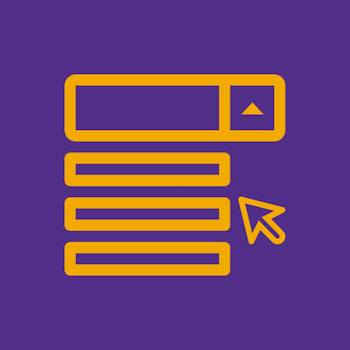 Option to Convert Winter 2020 Grades to CR or WD
The CR/WD grade selection form will be available for Winter 2020 grades beginning on May 20 at 8:30a.m. and will close on June 3 at 4:30p.m.
The form can be submitted only once. Please make selections carefully.
What is CR and WD?
CR means credit. The grade of CR does not impact a GPA. This can be chosen for a course where students earned a passing grade.
WD means to voluntarily withdraw from a course. WD appears on the transcript and is not eligible for refund consideration. The grade of WD does not count as a course attempt and does not impact a GPA. If the credit is needed, the course would need to be repeated in a future term. This can be chosen for a course where students earned either a passing or failing grade. 
Converting Grades to CR or WD
In LORIS, under the Student Services tab, you will see a form called "COVID-19: Option to convert Winter 2020 grades to credit or withdraw."

Any grades that are eligible to convert will display in that form. Select either "Change to CR" or "Change WD" from the dropdown menu under the Final Grade column.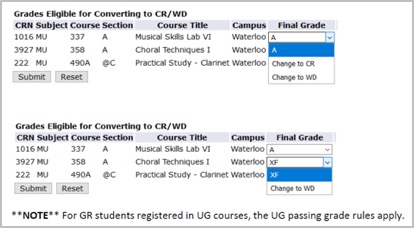 Once you submit the form, you will receive a confirmation email to your myLaurier account for your records.
What if the grades I want to change do not appear as selections?
Please contact an advisor in your Dean's office.
Note: Any course at another university must follow the process at that institution. This includes University of Waterloo cross-registered courses, and Letter of Permission courses.
What if I am writing a deferred exam or my grade is recorded as GNR (Grade not Received)?
Submit changes for any eligible grades that appear at this time and keep an eye on your myLaurier email for further instructions regarding deferred exam or GNR courses.
Further Questions
For further information about the implications of the CR/WD process, please refer our frequently asked questions page.
You can reach Service Laurier by email at servicelaurier@wlu.ca or by phone Monday to Friday from 10a.m. – 3p.m. (Waterloo: 519.884.0710 x2800; Brantford: 519.756.8228 x5885).