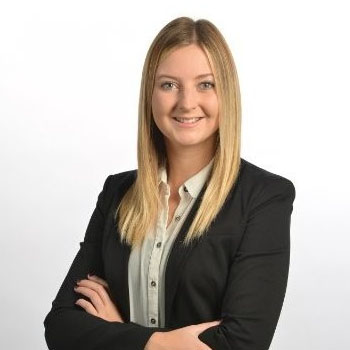 Senior Consultant Advisory Services (Business Administration, BBA)
Katrina Younis, BDO Canada
By: Matthew Gregorchuk, Outreach & Support Peer

Katrina graduated from the Honours Bachelor of Business Administration program at Wilfrid Laurier University in 2015. She graduated with the Accounting concentration and Co-operative Education option. Katrina's first co-op work term was with BDO as a Junior Consultant where she was provided with valuable training and experienced amazing mentorship from the Senior Consultants. Her positive experience during this work term led her to return to BDO for two more terms. Upon graduation, Katrina was hired by BDO as a full-time Consultant in Advisory Services. Currently, she works as a Senior Consultant in the same area and has held that position since October 2017. Katrina points out that business education is a very valuable asset when trying to secure consulting-related positions within an accounting firm.

Katrina's main goal is to assist clients in creating strategic, practical and effective processes to minimize organizational risks and maximize business opportunities. The business environment is constantly changing and evolving, and so the requirements of the job change rapidly in order to meet the needs of current and future clients. Tasks can range from developing work program timelines, testing business processes and internal controls, presenting complex ideas clearly and effectively to clients, and also sharing expertise with peers and less experienced staff. Katrina stresses that every day is different in the role of a consultant. The processes, documents and methods used to complete the job are similar, but because BDO has diverse clients, Katrina must use different skill sets in unique ways in order to get the job done. Katrina constantly works to help businesses compete and thrive in a very challenging business environment.

One of her favourite aspects of the job is the combination of accounting knowledge and consulting skills required to be successful. Katrina mentioned that she utilizes her knowledge from her business education, as well as public speaking and communication skills on almost every task or engagement she completes. Katrina feels she learned these skills during her degree and through her involvement as President of the Laurier Accounting Association.

According to Katrina, the essential skills needed to be successful in this job are communication, critical thinking, as well as an eagerness to learn. Being a consultant involves communicating your ideas to clients, as well as listening to their ideas to reach an optimal solution. Because of this, someone who can "think on their feet" and communicate effectively will be successful in this line of work. Katrina also highlights that an eagerness to learn about different clients is a critical skill.

Katrina highlighted the importance of personability and adaptability as must-have personal traits when entering this field of work. Working as a consultant involves regularly communicating with different clients in a positive manner. For this same reason, adaptability is also essential. Katrina states that the most effective consultants are the ones who can adapt to the various situations and problems they may face and approaches each client with ambition and energy.

Most people in this career have a business undergraduate degree and then pursue a CPA designation. However, it is also beneficial to have a Certified Internal Auditor (CIA) designation. Although these certifications are not mandatory, they are very highly recommended. Katrina recommends a business education for students who are interested in consulting, as this background will prepare you well for the CPA and/or CIA designation exams. In addition to helping you obtain your designation, a business education can also provide you with the communication and critical thinking skills necessary to be an effective consultant. To gain experience toward this career goal, volunteering in accounting or consulting-related organizations on campus (Laurier Accounting Association or Laurier Consulting Club) is beneficial to increase your accounting knowledge as well as building a personal network.

To acquire consulting-related experience as a student, consider applying to consulting co-op positions, as there are many student opportunities in accounting firms for students interested in consulting as a future career. Katrina recommends subscribing to the CPA magazine offered through CPA Ontario, as this magazine provides great information on industry trends and opportunities. Getting involved in business/consulting clubs on campus can also help you learn more about the field and allow you to meet others who share your passion for consulting.