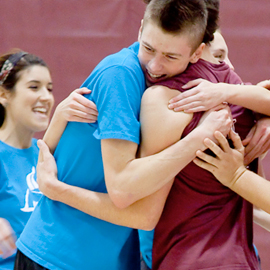 Recreation activities this winter at Laurier
If getting active and involved is on your 'to do' list for 2018, then look no further than Laurier's Department of Athletics and Recreation.
Intramurals
Intramurals are a great way to meet Golden Hawks with similar interests while getting active.
Check out the list of intramural activities available on Laurier's Waterloo and Brantford campuses. From badminton and ball hockey to handball, soccer and volleyball – there's something for everyone!
For winter 2018, Waterloo campus intramural registration closes Friday, Jan. 12 and Brantford campus intramural registration closes Friday, Jan. 19.
Free Trial Week for Group Classes
Not sure about joining an intramural team or league just yet? No problem. Athletics is offering free admission to all group fitness and dance classes the week of Jan. 8-12. Come out and work up a sweat in a hip hop class or blast some stress away in cardio kickboxing.