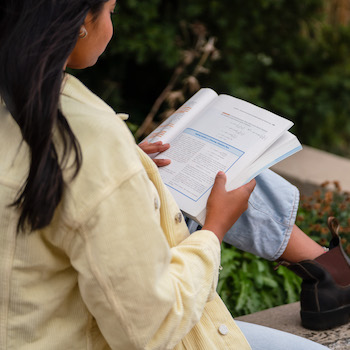 Find your exam room
Worrying about finding the location of your exam room is the last thing that should be on your mind just minutes before your exam. It's a good idea to plan out a trip to each of your exam locations to make sure you know how to get there and what the room looks like.
Identifying Your Exam Location
Check out the Brantford, Waterloo and/or Online Learning (OC) final exam schedules to identify where you will be writing your exam. You can search your course codes to quickly find each of your exams – just make sure you are viewing the correct section by looking at the Section and/or Lecturer headings.
Building Abbreviations Defined
You'll likely recognize some of these abbreviations now that you've had in-person classes this term, but here is a breakdown of all exam room abbreviations to help you get started.
Brantford
BRMDC: Market Darling Centre (67 Darling St.)
CB: Carnegie Building (73 George St.)
GRH: Grand River Hall (171 Colborne St.)
OD: Odeon Building (50 Market St.)
RCE: Research and Academic Centre – East (150 Dalhousie St.)
RCW: Research and Academic Centre – West (150 Dalhousie St.)
Waterloo
1E1: Arts Building
DAWB: Dr. Alvin Woods Building
A: Aird Building
AC: Athletic Complex
BA: Bricker Academic
LH: Lazaridis Hall
N: Science Building
P: Peters Building
SB: Schlegel Building
US: University Stadium
Understanding the Numbers (If Any)
Some exam spaces, like the Athletic Complex and University Stadium, are home to only one space for writing exams, so you can't really miss it. However, if there are numbers in the exam room location, you'll have to find the exact classroom or space.
The first digit in a classroom listing indicates the building floor. If your classroom listing is DAWB 2-101, your classroom is located on the second floor of the Dr. Alvin Woods Building, room 101. In other cases, there is no dash, but the first digit still refers to the floor. For example, if your classroom listing is RCW203, your classroom is in the Research and Academic Centre – West on the second floor, room 203.
Finding the Building
Check out the Brantford and Waterloo interactive maps to locate buildings and figure out the best route to get there.
Go in Advance
Take the time to find your exam locations prior to the day of – it's worth it, trust us. Not only will this help alleviate stress by knowing exactly where you're going, a prior visit allows you to determine how long it's going to take you to get there on time and scope out the nearest restrooms and water fountains.