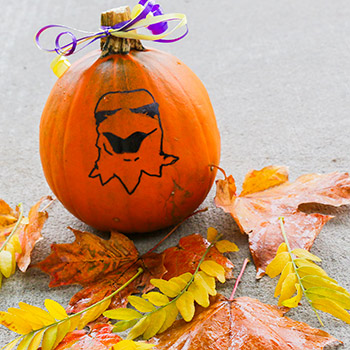 Stay Ghoulden this Halloween
Halloween festivities can make for a spook-tacular amount of fun. But the fun can come to an end quickly with unsafe behaviours.
At Laurier, we are proud of our students, our reputation, and the Golden Hawk community we all represent. Your decisions have an impact – please live up to your reputation and make safe and respectful choices as members of the wider City of Waterloo and City of Brantford communities.
Safety Tips
A few reminders about making safe and responsible choices when attending and travelling to and from Hallowe'en events:
We continue to be in a global pandemic and although restrictions are beginning to lift, please adhere to the gathering limits as outlined by the provincial reopening act – general gathering limits are 25 people inside and 100 people outside. Those who are not following gathering limits could be fined.
You are accountable for your actions. If you are documented for violating laws or university policies, you may have the incident addressed by the Non-Academic Code of Conduct in addition to any legal proceedings. Sanctions imposed by the Dean of Students office could range from a meeting or restitution for damages to suspension or expulsion.
If you are of legal age to drink and choose to consume alcohol, drink responsibly, know your limits and never drink and drive. Police will issue tickets for drinking underage and for drinking in unlicensed public places.
When it comes to cannabis, make responsible choices and make yourself aware of Laurier's Smoke Free policy.
Always carry identification with you in case you need assistance and identification is required.
It is necessary to obtain consent for all sexual encounters. Drinking eliminates your ability to give and receive consent – wait until you're sober. For more information and support resources, visit the Gendered Violence Prevention and Support site or contact Sarah Scanlon, manager, sexual violence response at sscanlon@wlu.ca.
Look out for your friends. If you see something, say something. If you or a friend needs help, always ask for it. Download the SAFEHawk app, contact Special Constables at 519.885.3333 in Waterloo or 519.770.3778 in Brantford or call 911 if you need help.
Drink safety awareness. Find more information on safeguards, warning signs, and how to tell if you or a friend has been drugged.
Stick together, never leave a friend behind and ensure you all make it home safely. Designate one person to help someone in trouble and make sound decisions.
Arrange a safe way home:

Call Foot Patrol 519.886.FOOT / 519.886.3668 (Waterloo) or 519.751.PTRL / 519.751.7875 (Brantford).
Call a taxi or ride service.
Use the Friend Walk feature in the SAFEHawk app.

Please respect our neighbours' homes and properties when travelling to and from events. We are all part of the same community!
Enforcement (Special Constable Service, Police, Fire and Bylaw)
Our local police services in Waterloo and Brantford support safe behaviours and the safety of our students and neighbourhood community.
Consuming alcohol in public areas is prohibited. Violations may result in a ticket ($125 fine).
Selling alcohol at keg parties is illegal. Police continue to monitor the illegal sale of alcohol.
Charging money for people to consume alcohol, even when promoted as a 'clean-up fee' or a 'fee for the bracelet,' is still considered selling alcohol by police and the courts.
If purchasing alcohol, do so from a licensed establishment, be of legal drinking age, drink responsibly, and arrange a safe way home.
Interior hallways and all exits must remain free and clear of obstructions at all times. In the event of a fire, follow emergency procedures and have two exits out of the building.
Falsely setting off a fire alarm, fire extinguisher or smoke alarm is a criminal Code of Canada offence. Fines are $642 per fire truck dispatched to your location.
Compliance officers will focus on noise issues, public urination, garbage and property standards. Fines range from $300-$550.
Exceeding gathering limits as outlined in the reopening of Ontario act could result in individual fines of $880.
All tenants on a property lease are equally responsible for all activities at their residence.