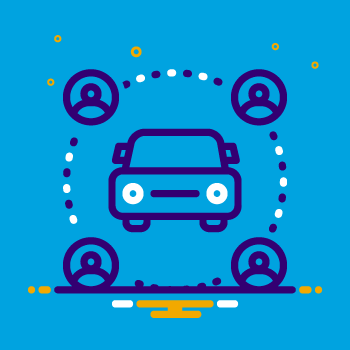 Travel green this winter and carpool
The snow has already started to accumulate in Waterloo Region and Brant, which can make a commute to Wilfrid Laurier University's campuses by foot or bicycle cold and slippery.
Stay warm, dry and green by finding a carpool through gotravelwise.ca, an online commuter resource from TravelWise. TravelWise helps businesses and other groups make greener transportation options available to their employees and members. Laurier has been a TravelWise member since 2014.
To find a carpool going your way, visit gotravelwise.ca, which offers carpool groups to Laurier students and employees at the Waterloo and Brantford campuses. Using gotravelwise.ca is free, but you may want to discuss ride fees with your driver.
Why Carpool?
Carpooling offers benefits to you and the environment, including:
Saving money by reducing your parking and fuel costs.
Convenience. Once you find a carpool buddy, you can conveniently match your schedules, drive less yourself and have a companion while on the road.
Environmental respect. Less cars on the road means improved air quality and less greenhouse gas emissions.
Create an Account
Once you're ready to join the commuting network, follow these steps:
Register for the Laurier Student Network at gotravelwise.ca.
Input your commuting preferences.
Review your carpooling options and connect with potential carpool matches.
Engage with TravelWise
Throughout the year, Laurier's Sustainability Office works with TravelWise to host engaging campaigns such as Bike Month in June and Carpool Month in February, when hundreds of participants take carpool selfies and track their carpool trips to get to the top of the leaderboard and win prizes.
Stay in the loop with sustainable transportation campaigns by following Laurier's Sustainability Office on Twitter (@LaurierGreen), Instagram (@lauriergreen), Facebook or sign up to receive our student newsletter.