Brantford Campus Advising
You want to reach your academic goals and we are here to help! The undergraduate academic advisors in Brantford are committed to working with you to help you:  
Navigate program and course requirements.
Create an academic plan to meet your needs.
Research program possibilities.
Determine appropriate campus resources.
We recommend that you connect with an academic advisor once a year to ensure that you remain on track with your degree requirements.
For the quickest and most effective response, email us at lbacademicadvising@wlu.ca.
Make sure you: 
Email us from your @mylaurier.ca account. 
Include your student number.
Appointments can be booked via our online booking system. Appointments are released 7 days in advance and are available Monday to Thursday. The system is updated daily so if you do not see an appointment available, please try visiting the page again the next day.
Schedule a same day virtual or in person appointment. Appointments open for booking every Wednesday morning at 8:45 a.m. through our online booking system.
Do you have a general academic question and need a quick answer? Join an academic advisor in a live chat.  Zoom Link:
https://wilfrid-laurier.zoom.us/s/99821607815
Live Chats run every Tuesday and Thursday, 1:00 p.m. - 1:30 p.m, until December 14.
Chat with Ava, our virtual chatbot on this page.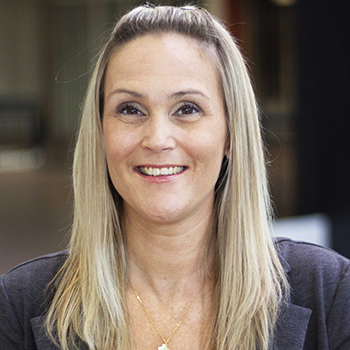 Area of Responsibility
As an academic advisor, I feel extremely lucky to have the opportunity to work with such a diverse and talented group of students on a daily basis. I'm truly blessed! Having worked at Laurier since 2012 in multiple roles, I've determined that a common, fundamental thread that has existed in each position that I've held is my ability to build strong, trustworthy relationships with the students that I work with in an effort to empower them to reach their personal goals. As a university graduate and mom to a current Laurier student, I realize that university can be challenging and it can test our limits and our strength at the best of times. As an academic advisor, I am here to support students throughout their time spent at Laurier, helping them to navigate any hurdles they may experience along the way. I'm proud of the wealth of academic and career resources we offer here at Laurier – resources that I love to share with students in order to ensure that they are utilizing all the supports we have to offer in order to make their time at Laurier a success. I look forward to working with you, so please don't hesitate to reach out!
Background
As a dedicated, life-long learner, I've had the opportunity to spend a few years teaching in the public school system, which has allowed me to realize that I am truly passionate about my role as an academic advisor and my work with university students. I am truly dedicated to the student population that I serve and I am committed to providing students with exceptional service during their time spent at Laurier and beyond. My education background includes the following:
Ontario Certified Teacher (OCT)
Additional Qualification Courses: Education Part 1, Reading Part 1, Kindergarten Part 1
Additional Basic Qualification Courses: Classroom Management, Teaching First Nations, Metis, and Inuit Children, Teaching LGBTQ Students
Bachelor of Education (Honours), Brock University
Bachelor of Professional Arts in Human Services (Honours), Athabasca University
Early Childhood Education Diploma, St. Lawrence College
Social Service Worker Diploma, Fanshawe College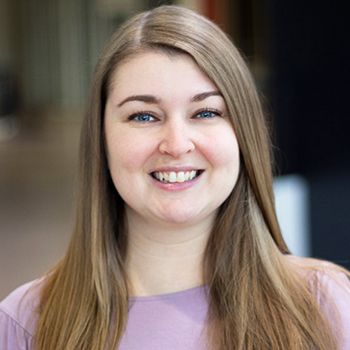 Area of Responsibility
As an academic advisor, I am here to help students navigate their degree requirements and support them throughout their time at Laurier. My favourite part is working with students in various stages of their studies; from transitioning into their first term to selecting their final courses for their degree. I enjoy collaborating with other staff and faculty while connecting students to the many fantastic student resources available to them.
Background
I graduated from the Concurrent Education program at Laurier Brantford in 2015 and completed my Bachelor of Arts from Laurier and my Bachelor of Education from Nipissing. I also have my Ontario Certification of Teaching. Since 2015 I have worked in various departments and roles at Laurier, most recently in Laurier International with our Laurier English and Academic Foundation (LEAF) Program.
Interests
I love to spend time outside, read books from different genres, birdwatch and attempt to keep my houseplants alive.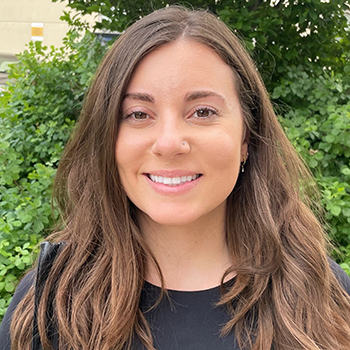 Area of Responsibility
My role as an academic advisor is deeply rewarding and fulfilling. I take pride in guiding students on their educational journeys, helping them make informed decisions and overcome challenges. Whether it's assisting students in selecting the right courses, offering guidance, or providing a listening ear when they encounter academic difficulties, I strive to be a reliable source of support. I'm committed to ensuring that every student I advise has the tools and knowledge they need to thrive, fostering a sense of confidence and direction as they progress through their university experience.
Background
I started working in the Academic Advising office in 2021. As a proud Laurier alumna, I graduated with a BA in Human Rights and Human Diversity and participated in an outbound exchange for a term at Philipps-University in Germany. I completed my Social Service Worker diploma from Mohawk College in 2018.
Interests
Going to the gym, reading, travelling, hiking, biking and anything outdoors.