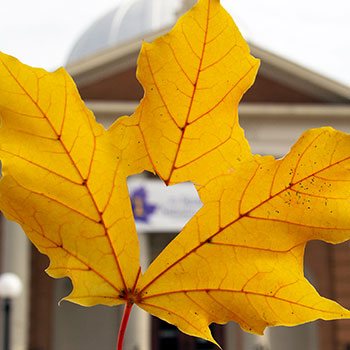 First-Year Support Programs
Your first year at Laurier is an exciting time, but it can also be overwhelming as you learn to navigate new systems, resources and learning approaches. Laurier staff, faculty and senior students from across the university are excited to help make your transition to university as smooth as it can be.
First-Year Academic Coaches
If you're looking for advice on how to achieve your academic goals, but want to hear it from a fellow student, peer-to-peer academic coaching may be just right for you. Through this program, you will be paired with a successful upper-year student who can help you navigate the academic side of university life. Be sure to connect early and often throughout the term with your coach!
For more information, check out the First-Year Academic Coaches section on the Peer-Led Support page.
Questions? Email laurier101@wlu.ca.
Faculty Mentorship Program
This year, Laurier is launching a faculty mentorship program, which will pair first-year students with faculty members from across the university. You'll be able to meet informally once a month throughout the year to discuss topics of your choosing, whether it's career goals, challenges of a virtual learning environment, study tips, campus resources or your favourite Netflix documentaries. Laurier's faculty members are eager to get to know you, welcome you to Laurier and answer all your questions.
Faculty-Student Pairing
Pairings will be sent out at the beginning of October. Your faculty mentor will invite you to one meeting per month from October to April 2021.
We'll do our best to find you a match in your faculty, but we may not be able to accommodate requests for a specific mentor.
Register for the Program
If you're interested in participating in this program, be sure to register by Sept. 30 at 11:59 p.m.
For more information, check out the Faculty Mentorship Program section on the Academic Success Programs page.
Questions? Email kmcdowell@wlu.ca.
LOCUS and Residence Communities
One of the best ways to meet new people and get involved is through programming offered by LOCUS (Laurier Off-Campus University Students) and Residence.
Senior student mentors, known as dons, are available through both Residence and LOCUS and can provide academic, social and personal support. Residence Education Advisors (REAs), available for students in Residence, can direct you to academic resources and supports when you need them. Dons and REAs are your go-to for all things Laurier and they can connect you to many resources and opportunities!
For more information, check out the LOCUS and Residence Life pages.
Questions? Email locus@wlu.ca (LOCUS) and housing@wlu.ca (Residence Life).
Student Clubs and Associations
Student clubs and associations are great ways to explore your interests, have fun, feel part of the Laurier community and make new friends.
Faculty-based clubs and associations bring together students from the same area of study, while Students' Union based clubs are geared to students with common interests or identities. There are nearly 200 clubs and associations to join across both Waterloo and Brantford campuses, including gaming groups, charity and advocacy groups, and cultural organizations – or you can always start your own. Club and association events include everything from speaker events and professional development to social activities and study sessions.
Start small with one club or association or sign up for 10 and see what suits you best.
For more information, check out the Students' Union's Clubs & Associations Department pages.
Questions? Email suavpcaw@wlu.ca (Waterloo) and suavpcab@wlu.ca (Brantford).