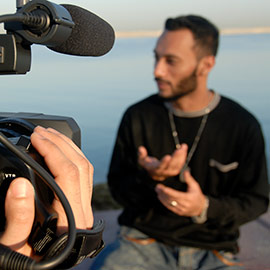 Golden Hawk casting call: ready to get Laurier famous?
Wilfrid Laurier University's Centre for Student Success is looking for two energetic students who are not camera shy, can show their Laurier pride and want to be Laurier famous!
The centre is working with a local video production company to produce a new "Welcome to Laurier" video for all incoming students.
To audition, students must submit a short video (at least 30 seconds) about what makes Laurier great. Audition videos, which can be a shared as a YouTube link or video file, must be submitted to kinga@memorytree.ca by Jan. 9, 2017. Students must include their email address and phone number.
Students selected for an audition will be contacted to arrange a Skype interview with the video director.
Successful applicants must be available for four to six hours on production day, Jan. 19, 2017. The production team will do its best to schedule shooting around students' class schedules.
If you are a student who has considered dabbling into the realm of television, this is an excellent opportunity to get some exposure and experience under your belt.