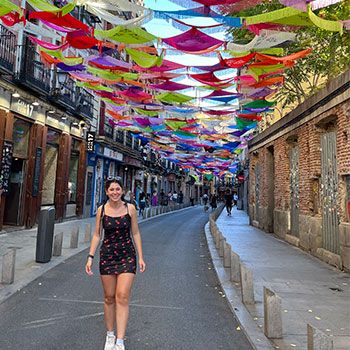 Travelling Solo: Laurier Student Leaves Comfort Zone and Makes Lasting Memories
Maya Khemlin travelled to Cardiff Metropolitan University on exchange for the fall 2022 term. She is a Kinesiology student at Laurier and studied in Cardiff's Sport Science program. At Cardiff, she experienced months full of rich adventures and friendships that will last a lifetime.
Getting Out There to Meet New People
When asked why she decided to go on exchange, Maya says that the pandemic played a big role. Stuck at home, she felt unmotivated and that she was not challenging herself enough. While she loved her friends at home, she had had the same friend group since high school and wanted to get out there and meet new people.
Taking Exchange Into Her Own Hands
Maya travelled solo to Cardiff. Although she did not go with another Laurier student, she was confident. She recalls that her first night in Cardiff was "horrible," and her confidence plummeted. She did not know anyone; she had no friends yet and was living in a studio apartment alone. The next day, Maya decided that her exchange was in her own hands and if she wanted to make friends then it was up to her. She went to a coffee shop to lift her spirits, when she overheard four girls speaking to each other and having a great time.
Maya asked if they were exchange students and found out that they were international students from France, Hong Kong, Cyprus, and India. The girls asked her to join them, and she did. Helping her with groceries and settling into life in the UK, the girls became people Maya relied on. Spending nights together hanging out, having dinner, and travelling, she knew that coming to Cardiff and putting herself out there was the right decision.

She had a similar experience in her classes. After realizing that all the students in her program had already known each other and studied together for years, she wondered "who am I?" But she met another exchange student and formed a special bond. Since they were always positive and having a good time, local students started coming up to them and talking with them to join in on the fun. She recommends that even if you don't know anyone, it's important to be confident. She says, "What do you have to lose?"
"There is plenty of opportunity to become independent by figuring things out on your own without help from family and friends."
Maya says that her favourite part of exchange was meeting different people with various personalities, cultures, and backgrounds. She also said it was great to go into a situation without knowing anything or having much planned because it is a fresh start. She says, "There is plenty of opportunity to become independent by figuring things out on your own without help from family and friends." Another highlight was a trip to Scotland with a friend she instantly clicked with. They had a special Halloween experience in Edinburgh and met amazing people.
Have an Open Mindset for Exchange
When asked to give advice about exchange, Maya says, "Go with an open mindset. You can't be closed off from different opinions, backgrounds, or cultures. You're going to see things you aren't used to." She also offers a fun travel tip for travelling in big cities. She recommends walking 15-20 minutes away from the main areas and finding small restaurants. She says that those end up being the best places, usually run by small business owners or families. In terms of budgeting, she recommends planning a budget and then increasing it by $2,000. She says "It costs so much, and you don't realize until you're in it. Save as much money as you can because you don't want to say no to opportunities." She suggests tracking budgets through Excel, and dividing it by entertainment, food, rent, etc.
Inspired for New Adventures
Now that Maya is wrapping up her winter term at Laurier, she is planning to have many more travelling adventures. After moving alone to Cardiff, she feels ready to take on anything, a two-week backpacking trip in Costa Rica being her next adventure.