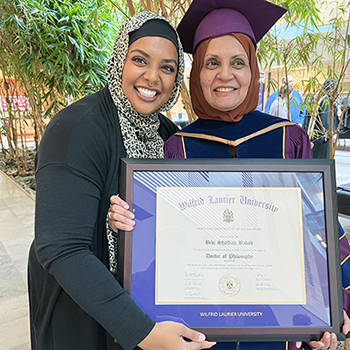 Mother-daughter duo share Social Work PhD experience at Laurier
Amilah Baksh is proudly following in her mother Bibi's academic footsteps.
Bibi is a PhD candidate in Wilfrid Laurier University's Social Work program set to graduate this October, while Amilah just recently began her PhD studies in Social Work at Laurier.
"Attending the same program as my mother has been hilarious, sometimes awkward, but always a joy," says Amilah.
"I have had my mother serve as a guest speaker in classes and I recently had the pleasure of attending her doctoral defense. In these ways, I get to see my mom's professional and academic excellence. A lot of children don't get to see that side of their parents."
Bibi began her PhD journey in September 2014 and recently defended her thesis. She wasn't always interested in pursuing a PhD – it was thanks to a professor encouraging her, as well as some personal life transitions, that lead her to apply to Laurier.
"When I was accepted, it felt like it was less of a decision and more of destiny," says Bibi.
During her second year in the program, Bibi joined the Social Work NIRE committee. The work of the committee was focused on English as a Second Language writing support for international students. The program also provided peer mentoring and the opportunity to identify gaps that exist in Faculty of Social Work curriculum.
"I was always interested in activities and opportunities presented by the Faculty of Social Work, particularly programs that addressed marginalized groups," says Bibi. "I wanted to be a part of and attended programs that responded to events such as January 2017, the Montreal Mosque shooting."
The final years of Bibi's PhD journey were punctured by COVID-19-related challenges, but they didn't dampen her spirits.
"The eight years it took to complete and defend my thesis were very eventful," says Bibi. "I started the program as a grandmother of one and by the time I had finished I had eight grandchildren."
Now, Bibi's daughter Amilah is following her path, recently beginning her own journey working toward a PhD in Social Work at Laurier and taking up a leadership role on NIRE.
"I remember encouraging Amilah years before I started my PhD that she should do hers," says Bibi. "I might have been a bit insistent because she jokingly responded to me not to live vicariously through her!"
The mother-daughter duo now uses their interest in the same program as an opportunity to discuss and collaborate, allowing them to inform the work they're doing in a more meaningful way.
"My mom has always been an inspiration to me – she is the reason I pursued Social Work in the first place," says Amilah. "She has always been my strongest supporter, and has always been the best role model."
Bibi is looking forward to October convocation, with Amilah in the audience, and says she can't wait to one day watch her daughter walk across the convocation stage after earning her own PhD.