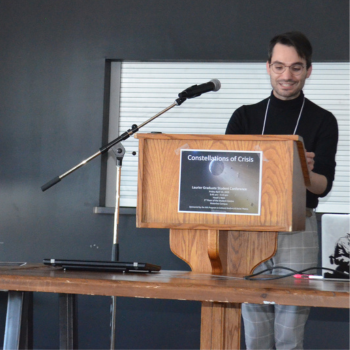 Constellations of Crisis Graduate Student Conference
The Master of Arts (MA) in Cultural Analysis and Social Theory (CAST) program organized a graduate student conference which provided Laurier graduate students the opportunity to participate in an inter-disciplinary in-person event to address current crises of our time. 
The event took place on April 12, 2023 in the Hawk's Nest and included 14 graduate student papers across various departments including CAST, Communication Studies, English and Film Studies, International Public Policy, and Criminology. 
"This interdisciplinary conference presented panels that wove together diverse and unique perspectives and created conversations between various academic backgrounds, frameworks, and topics," said Millie Hannan, current CAST student. "I valued the conferences' structure which spoke to the past, present, and future conversations created by the papers. It was wonderful not only to meet and discuss with new people, but also to present alongside and engage in critical conversation with them."
This was the first in-person conference ran by CAST since the start of the pandemic. 
Constellations of Crisis: Laurier Graduate Student Conference