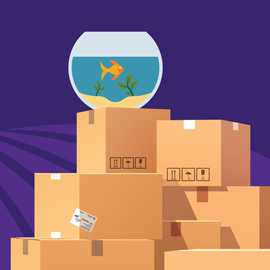 Service Laurier has moved
Service Laurier on the Waterloo campus has moved from the 202 Regina St. building in Waterloo. As of Monday, Dec. 18, you can visit Service Laurier at its new location in the Schlegel Building, room 102. The Brantford campus is not affected.
Enrolment Services is also moving to the Schlegel Building.
Moving will enable Service Laurier to provide more resources to serve students' needs and make their work more efficient, says Service Laurier Manager Meghann Wiles.
"We look forward to providing an enhanced level of service from our new office space in a more central location," says Wiles.
On both the Waterloo and Brantford campuses, Service Laurier serves as students' one-stop shop for all enrolment services, including course registration and financial aid, as well as scholarships and bursaries.
Service Laurier hours will remain the same: Monday to Friday from 9:30 a.m. to 4:30 p.m. Contact information will also remain the same: 519.884.0710 x2800 or servicelaurier@wlu.ca.
For more information, visit wlu.ca/servicelaurier.