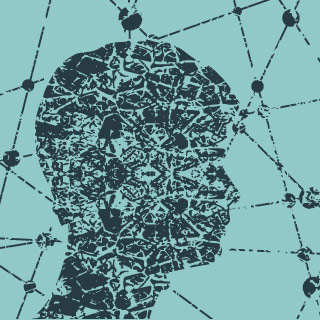 Mental health resources
Mounting academic pressures, uncertainty about the future, transitioning from adolescence, and relationship breakdowns: any of these scenarios, and many others, can impact your mental health. Unacknowledged mental health issues can affect every aspect of your life and sometimes have serious ramifications.
"Without proper care and support, these issues can significantly impact a student's personal and academic success," says Karen Ostrander, director of the Student Wellness Centre on Laurier's Waterloo campus. "Students should know that they are not alone. There are many others facing similar challenges, and there are many supports available."
The Student Wellness Centre has made a number of changes and additions to programs and services related to supporting student mental health over the last few years. These improvements are in response to increased demand for services with significant consideration of student input and using a review of best practices across the sector. These changes include the move to a circle of care model with a multidisciplinary team of counsellors, health care providers, and the addition of a mental health nurse and case manager.
Take advantage of all the mental health and wellness resources available to you.
Campus Supports and Resources
At Laurier, you have access to a wide range of resources to both promote and maintain good physical, emotional, and mental health.
SAFEHawk App
SAFEHawk is a free app for iPhone, Blackberry and Android devices that connects you to telephone helplines such as Good2Talk, Here 24/7, and other community-based mental health resources in Waterloo Region, Brantford and Toronto.
Accessible Learning Centre
With locations on the Waterloo and Brantford campuses, the Accessible Learning Centre (ALC) provides academic support and resources to students with both permanent and temporary disabilities. Services offered through the ALC include assistive technology, alternative formats for exams or assignments, note-taking, tutoring and peer support. You must register with the ALC to receive accommodations.
Student Wellness Centre
The Student Wellness Centres on the Brantford and Waterloo campuses provide comprehensive physical, emotional and mental health services to Laurier students. The team includes personal counsellors, physicians, a mental health nurse, chiropractors, physiotherapists and registered massage therapists.
Delton Glebe Counselling Centre
The Delton Glebe Counselling Centre is a holistic counselling facility run by Martin Luther University College that serves both the Laurier and external community. The centre is located on Albert Street in Waterloo.
Thrive
Thrive is a weeklong series of free events for students on the Waterloo and Brantford campuses that focuses on building positive mental health. You can take part in Thrive-week activities every October and January and learn how to thrive at Laurier.
Gendered and Sexual Violence Support
Support is available to all members of the Laurier community who have been impacted by gendered or sexual violence, regardless of when or where the violence took place. Laurier has a sexual violence response coordinator on each campus whose role is to help you understand what options are available on and off campus. Additionally, through partnerships with the Sexual Assault Centre of Brant and the Sexual Assault Support Centre of Waterloo Region, sexual violence counselling is available on campus in both Waterloo and Brantford.
Wellness Education
Wellness education programming at Laurier includes skill-building workshops a full schedule of campus events, and the Peer Wellness Education Team of student volunteers.
Students on Laurier's Waterloo and Brantford campus can earn a Wellness Education Certificate by attending approved wellness education activities and completing a short reflection on their learning.
More Feet On the Ground
This online mental health education program teaches you how to recognize, respond to, and refer individuals experiencing mental health issues on Laurier's campuses. You can earn the More Feet on the Ground Mental Health Training Certificate after successfully completing the online modules. The certificate is eligible for recognition on the Laurier Experience Record.
Students Helping Students
Laurier students are leaders in promoting dialogue around mental health. A variety of student-run groups and projects are active on Laurier's Waterloo and Brantford campuses, providing peer-to-peer support and mental health awareness.
Graduate Students' Association
The Graduate Students' Association takes a holistic approach to wellness. Events are planned throughout the year and target various dimensions of wellness: physical, emotional, spiritual, sexual, intellectual, environmental and occupational. Wellness initiatives in the past have included therapy dogs, community cook-offs, Soup Tuesday with the Indigenous Student Centre, massages, weekly "Shut Up and Work" sessions, gym passes, yoga, hiking and meditation. The Graduate Students' Association continues to strive to find new ways to design and implement programs to promote and maintain student wellness.
Students' Union Clubs and Committees
The Students' Union offers several student-run clubs committed to promoting a healthy, balanced lifestyle and breaking stigmas around mental health.
Peer Connect is a committee that addresses mental health by promoting a balanced lifestyle for all students.