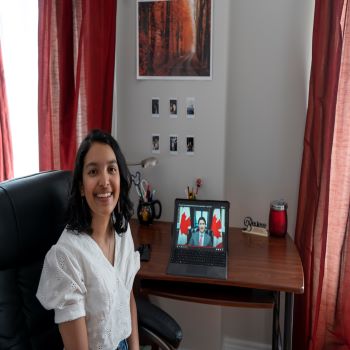 Bringing together language skills and a passion for human rights
This summer Languages student Danielle Louzado participated in the prestigious Prime Minister's Summer Leadership Program. Here's what she tells us about it:
"Another pandemic summer left me unsure of what to expect for Spring 2021, but I am extremely happy to say that I received an incredible opportunity to work for a federal minister's office this summer. I spent the past couple of months working remotely for the Office of the Minister of Middle Class Prosperity and Associate Minister of Finance, the Honourable Mona Fortier. As an intern, I had the opportunity to work with and learn from the office's Parliamentary Affairs, Communications & Operations, and Policy teams. This was my first time working for the federal government and having come in with limited knowledge of governmental affairs, I was able to learn and grow immensely in this role.
I have had a number of amazing experiences since May, ranging from briefing the Minister before a Treasury Board meeting and attending meetings for the Task Force on Women and the Economy, to having my work read in the House of Commons! Although this experience was remote, I was quickly welcomed to the team and given a variety of opportunities to help me make the most out of this experience. Through this program, I had the opportunity to hear from various ministers, Members of Parliament, and even the Prime Minister, and learn from their personal journeys.
This program allowed me to bring together my French language skills and my passion for human rights and helping others. As a student majoring in Languages with a minor in Human Rights, there could not have been a better fit! It was truly inspiring to work for such a dedicated Minister and to see the growing diversity and representation in the world of politics, and I look forward to continuing to watch the growth and change over the years to come.
The mentorship that I received, through the advice given by guest speakers, my mentor set up through the program, and my supportive team have helped me take advantage of this summer and learn about different departments within the federal government. I feel very greatful and privileged to have had the opportunity to work for our country, especially during a time when our country needed the government's support more than ever, and I look forward to continuing to develop my skills and knowledge by volunteering with the election campaign!