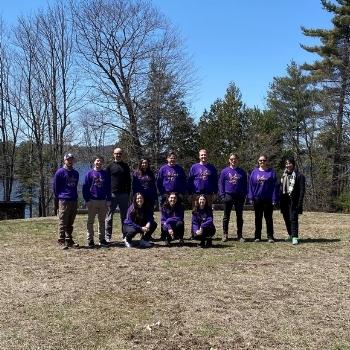 Environment enhances the writing process at Laurier's Nature Writing Retreat
Wilfrid Laurier University's Writing Services, in collaboration with the department of Geography and Environmental Studies, offered its first Nature Writing Retreat at Muskoka's Camp Mini-Yo-We in April. The pilot project attracted eight Geography and Environmental Studies graduate students, all in the process of writing their master's thesis. The group spent three days making progress on writing projects, but also found time for canoeing, hiking and exploring.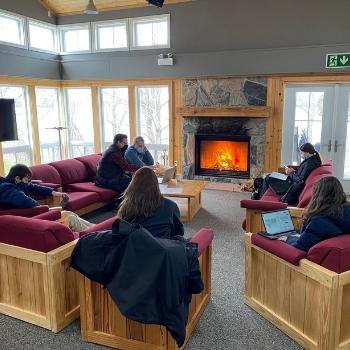 Each day was structured to allow students time to work on their writing projects, but also included breaks throughout the day and evening to enjoy the outdoors and natural environment.
"This helped the students learn to develop effective writing habits," says James Southworth, retreat co-organizer and a writing consultant with Writing Services at Laurier. "Each day, we had a number of 25-minute writing blocks, which are called 'Pomodoro sessions.' During these dedicated writing times, we encouraged students to put aside any distractions, including phones, and focus solely on the writing task at hand."
The camp included several writing locations for attendees to choose from and it didn't take long for participants to find their ideal spot. Wherever students were working, a ringing bell would echo through the camp to signal breakfast, lunch and dinner.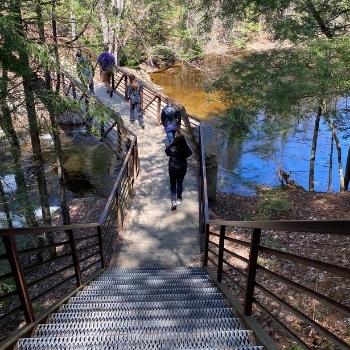 "The connection between nature and writing was an extremely important part of this retreat," says Tatyana Feiner, who will begin her master's degree studies in the fall. "Having the opportunity to write in a pristine, natural environment with minimal distractions allowed me to focus on my assignments and work with ease. If we were experiencing writer's block of any kind, we were encouraged to clear our mind by stepping outside or going for a short walk to alleviate any stress we may be experiencing and reset our thoughts."
On their breaks, students explored nearby trails and parks, including Arrowhead Provincial Park, went canoeing or kayaking, and played card games. Students utilized these breaks as rewards for accomplishing their writing goals for the day.  
"Getting outside was extra rewarding," says Jeremy Harbinson, third-year Master of Science and Geography student.
"I really learned that one can be productive with less time when you're more focused."
The Nature Writing Retreat also allowed participants to spend time with other graduate students, as well as the chance to network and build community.
"The past few years have been very difficult for graduate students," says Associate Professor Christopher Lemieux, retreat co-organizer. "There has been no shortage of lockdowns, seclusion, stress and anxiety. We wanted to give students the opportunity to work, socialize and regenerate together in nature."
"Since starting my masters in the COVID-19 pandemic, a lot of the social aspect of my graduate experience was missing," said Mhairi Chandler, a first year Master of Environmental Studies student. "This retreat allowed us to connect with professors on a more personal level and establish new connections with fellow graduate students."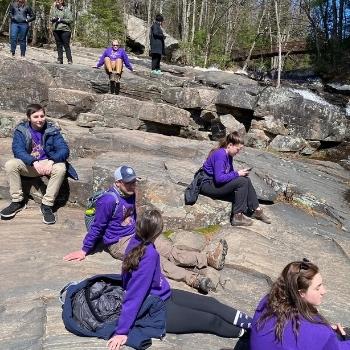 Feiner said the retreat offered a great way to relax, meet new friends, explore nature and enhance writing skills.
"After two years of minimal interaction with others due to the COVID-19 pandemic, it was so nice to engage with the Laurier graduate community," says Feiner.
Southworth says Writing Services hopes to offer similar writing retreats in the future. "The event was such a success in helping graduate students make progress on their major writing projects," he says. "I hope we can offer a similar experience to graduate students across departments and faculties at Laurier."
Lemieux offered thanks to Laurier Dean of Science Anthony J. Clarke, the Faculty of Graduate and Postdoctoral Studies, and the Graduate Students' Association for supporting the retreat.