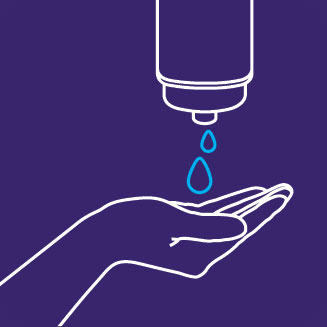 Tips for preventing the spread of viruses
Wilfrid Laurier University is committed to ensuring a safe and healthy environment for our students, faculty and staff. The university monitors public health conditions and follows guidance from public health about necessary health and safety requirements.
Protect Yourself and Protect Your Community
Let's all do our part to keep our community healthy and reduce the spread of illness:
Cover your nose and mouth when you cough or sneeze by using a tissue or cough into the crook of your elbow if you don't have a tissue.
Wash your hands often with soap and water, especially after you cough or sneeze and before eating. Alcohol-based hand sanitizers are also effective (Laurier has installed hand sanitizing stations throughout its campuses and locations).
If you are ill, stay home and seek medical help as required.
Stay up-to-date with public health recommended vaccines.
Respect other people's choice to wear a mask. Masks are available upon request through the Dean of Students Office in Waterloo and Brantford, or through SHERM for faculty and staff.
Basic First Aid Items You Should Have
Having a thermometer is a good idea to monitor your health. Also keep at home:
hand sanitizer
decongestant
fever reducers (ibuprofen/acetaminophen)
disinfectant household wipes
your provincial health card