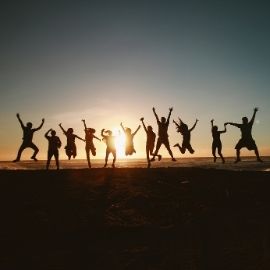 Eating Disorder Awareness Week
By Carrie Pollard, MSW, RSW
February 2, 2021
The goal of Eating Disorders Awareness Week (February 1-7, 2021) is to raise awareness and understanding about eating disorders, to reduce the stigma, increase hope of recovery, and highlight ways to access support.
One million Canadians have a diagnosed eating disorder, and one in two people know someone who has an eating disorder. These numbers, however, are not completely representative of those impacted because it does not include people with undiagnosed eating disorders who may be hesitant to seek help.  It also does not include those who struggle with disordered eating.
what does an eating disorder look like?
Even though eating disorders have the highest mortality rate of all mental health issues, they are not always recognized. Some of the signs of an eating disorder or disordered eating include:
Food and weight preoccupation
Body dissatisfaction
Food restriction
Overeating/binging
Compensatory behaviours (e.g., purging, laxative misuse, overexercise, fasting)
Depression
Anxiety
Social withdrawal
The National Eating Disorder Information Centre (NEDIC) provides detailed descriptions of eating disorders (ED), including anorexia nervosa, bulimia nervosa, binge eating disorder and others.
who is at most risk of an eating disorder?
Although there are many biopsychosocial factors that influence the development of an eating disorder, they affect people of all sizes, genders, ethnicities, socioeconomic status, abilities, and sexual orientations.  Access to support is not equal among diverse groups. Greater training and research is critical to improving our understanding of how different backgrounds and experiences affect the development and treatment of eating disorders.
how to get help
Laurier's Student Wellness Centres.  We have doctors, nurses, counsellors, and a dietitian to offer support and referral to specialized community resources.
The Waterloo-Wellington Eating Disorder Coalition offers resources, community events, and provides a list of eating disorder support and services.

The National Eating Disorder Information Centre provides resources, community events, listing of ED supports and services, as well as a free helpline: 1.866.NEDIC.20
eating disorder awareness week events for 2021
Landmarks across the country will be lit up in purple to highlight EDAW. You can show your support by wearing purple and follow the conversation with #ShowUsYourPurple and #EDAW2021
Check out Canada-wide events at NEDIC.ca including online trivia nights, film viewings, workshops, yoga and guided meditations, dancing, and webinars.