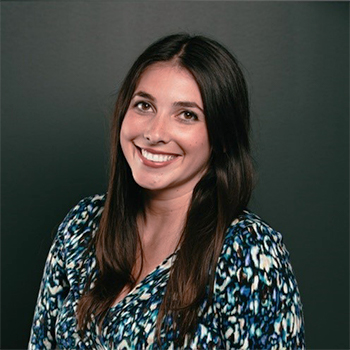 Buyer (Communications, BA)
Maggie Schaefer, TJX Canada
By: Subapriya Paul, Career Centre Peer

Maggie Schaefer graduated with a Bachelors of Arts degree in Communications with a minor in English. As a student, Maggie was heavily involved on campus by working at the university bookstore, being a part of the Model United Nations club, taking part in orientation week, as well as being a Clubs Coordinator for the Students' Union. Maggie enjoyed her time at Laurier so much that after graduation, she landed her first full-time job as the Vice President of Clubs and Associations with the Students' Union. Here, Maggie was able to gain valuable experience that ultimately lead to her current career at TJX Canada. Maggie began her career at TJX as an Allocation Analyst, which is an entry-level role in planning. Since TJX is driven to internally develop their employees, Maggie has also served in other roles including Associate Planner, Associate Buyer, before landing her current position as Buyer.

As a buyer, Maggie purchases merchandise specifically for Winners and Marshalls. Her job is to buy ladies hosiery, which includes purchasing socks, pantyhose, tights and leggings. Regularly, she evaluates how her business category is performing, what the overall business' needs are and visits various showrooms to build relationships with vendors. Maggie meets with many local vendors but her role also has her travelling to Montreal and New York about once a month, as well as London and Italy a few times per year. Maggie also conducts store visitations to look at the mix on the floor and determines whether the vision has been properly executed and what other products could be represented.

It is common to begin your career as an associate buyer where you gain entry level training in the field. There are typically some levels of associate buyer and full buyer positions in different industries. As an associate buyer level 1 you have a buyer coach before you progress to a level 2 where you gain even more responsibility. As a full buyer, you have ownership over your business.

As a fashion buyer, Maggie watches the market to see what brands are doing and looks at fashion runways for inspiration. She also monitors other retailers to identify key trends, (e.g., styles, colours, etc.). Maggie's buying decisions are strongly influenced by reviewing sales results. "I work for the customer and they vote on what they want to see more or less of."

Maggie feels incredibly lucky for the opportunities she's had in her career and really enjoys having autonomy and the ability to enact her own vision. She loves the fact that the environment is quick-paced and that it is always changing. Although traveling is an aspect of her job that she enjoys, she also describes it as being a "double-edged sword" as it can be very consuming, so it is important to establish proper work-life balance.

According to Maggie, the most important skills to be successful as a buyer include being entrepreneurial, having organizational skills, and being flexible to changing work environments. Since Maggie's role is essentially driving and managing her own business, it is crucial to be a go-getter and to take the initiative to seek out new opportunities. Also, in a quick-paced environment, it is important to stay organized and to be adaptable to changes in the office and while travelling. While introverts and extroverts alike could fit well in the role of a buyer, Maggie notes the role has a lot of extroverted aspects to it as you have to build strong relationships with vendors and building those connections is critical to the future of the business.

Maggie feels that having retail experience of any kind would be a valuable asset in this line of career, as she has gained many skills while working at the university bookstore during her time as a student. Having an analytical background is also quite important in terms of finances, which she was able to develop while using Excel and working with finances as the Vice President of Campus Clubs at Laurier. At TJX, although there are many employees that have post-graduate degrees, it is not necessary to qualify for the role and what differentiates you is often the experiences you gain outside the classroom. In this vein, Maggie advises students interested in this line of work to be active with volunteering to build their resumés. As buyers work in a variety of industries, all major retails would have buyer roles. The retail landscape is ever changing as online becomes more prominent for consumers.