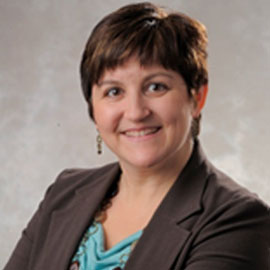 Communications Manager (English, BA)
Kelly Daynard, Farm & Food Care Ontario
Kelly Daynard is an excellent example of someone who has been able to combine their education and experience with their passion and turn it into a rewarding career. Kelly is the communications manager for Farm & Food Care Ontario, an organization that represents farmers and all agricultural businesses by helping to foster awareness and appreciation of all things agriculture.
Kelly was raised in Guelph and grew up in the farming industry, so her passion for agriculture came naturally. She chose to pursue the English program because she knew that having an English degree is inarguably a very valuable asset no matter what industry you work in. She chose Laurier because the school had a well-respected program, and was the perfect distance to move away from home! Kelly's favourite professor was Michael Moore from the English department where he provided Kelly with a great deal of support with drafting her fourth-year thesis paper that addressed agricultural imagery in Thomas Hardy's novels.
While studying at Laurier, Kelly took many Communications courses because they provided a good basis for developing professional skills. Her favourite courses were writing and literary as they allowed her to hone a variety of skills. One recommendation Kelly makes is, "take courses in other areas and programs that interest you because you gain a broader skill set." In her last year of university, Kelly found that she had some free time and wanted to pursue volunteering. At this point, Kelly made one of the best decisions in her career – she decided to get in touch with a local newspaper to see if they had any work for her.
Paul Knowles, the editor at the New Hamburg Independent accepted her as a volunteer reporter, at 15 hours per week. The newspaper told her they could not pay her, but would provide a recommendation for her at the end of the work period if the placement was a success. This was perfect for Kelly as she would be able to develop and enhance her journalism skills while working for a known organization. Kelly refers to Paul Knowles as one of her mentors. He also gave Kelly her first big break. As luck would have it, one reporter at the newspaper resigned shortly after the placement began, opening up a position that was granted to Kelly given her prior commitment and dedication as a volunteer.
Kelly managed her time well and worked part-time for the newspaper while completing her last year of university. Kelly graduated in 1992 on a Friday, and on the following Monday she was working full-time for the newspaper as a junior reporter. Given her farming background, Kelly was able to cover all agriculture-related stories allowing her to capitalize on her knowledge of the subject matter. Also, since it is a smaller newspaper, Kelly was able to cover a diverse range of stories throughout her seven year tenure first as junior reporter and then as senior reporter.
In 1998, Kelly went to work for the Ontario Cattlemen's Association as the communications manager and magazine editor for another seven years. During her time there, social media was just starting to kick-off. As well, the Bovine Spongiform Encelphalopathy (BSE, also known as 'Mad Cow') crisis happened in 2003, so Kelly spent a great deal of time working with farmers and media and gained a lot of experience in crisis communications.
In 2005, Kelly began her current position as communications manager with Farm & Food Care Ontario. Today, Kelly is responsible for all written pieces the organization produces. She oversees all website content (which includes five websites in total), two blog sites, and all social media. The organization is on Twitter with 4,500 followers and on Facebook with almost 1,000 followers. Kelly is in charge of fielding all questions that come through these platforms.
Through her job at Farm & Food Care Ontario, Kelly is helping farmers by teaching them how to portray their industry and vocation in a more professional light. A lot of farmers are not comfortable speaking to the media, and so Kelly conducts workshops and training to help farmers with their communication skills. Kelly and her team may give anywhere from 40-50 presentations a year, mostly in Ontario. She is able to train farmers for all commodities; for example, PEI potato farmers and Alberta egg farmers.
Kelly enhanced her skills further by completing the Advanced Agriculture Leadership Program in Guelph, which is a two-year executive development program. Farmers and others can complete the program resulting in a broader perspective of the industry and a chance to cultivate leadership skills.
As a communications manager with a not-for-profit organization, there is no typical day for Kelly. She has in-office days where she works on updating the website, writing fundraising pitches, authoring columns for other publications, and facilitating special projects such as the Faces of Farming Calendar. When she is out of the office, she is giving presentations and representing her organization at events. Right now, she is assisting with a pesticide survey initiative. In the past, Kelly has created unique websites like virtualfarmtours.ca. Kelly also coordinates annual bus trips, where reporters can sign up to ride on a bus and tour farms for the day. Working in the communications field, Kelly is always looking for new and innovative ways to tell farmers' stories. She recognizes the importance of utilizing social media and keeping up with the latest communication trends. Kelly also mentions that she is creating fewer print resources and that Twitter is not going anywhere – so utilize it!
In order to work in this field, Kelly recommends having strong writing skills. She recommends keeping an open mind, as you are always looking for the next new thing and how to apply it to your organization. Strong presentation skills and a background in computer programs are also assets. You would not like this job if you like routine, or if you do not like working with deadlines.
Kelly is an excellent example of someone being paid to do what they love. She is a leader in her field because she is passionate about the work she is doing! Kelly is a great role model for students as she proves how important it is to find a career you will love. If the passion is there, then you will find a rewarding career life ahead of you.