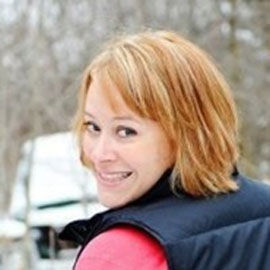 Communications Specialist, Design and Web (Business Administration, BBA)
Andrea Patterson, Ontario Universities' Application Centre (OUAC)
With an interest in photography, Andrea contemplated a Fine Arts program before entering university. She also toyed with the idea of becoming a teacher being a member of a family of teachers. As a child, Andrea always loved commercials and really wanted to be a commercial director. As she matured, she was still enamoured with advertising and the concept of marketing, which solidified her decision to study business at Laurier, which she graduated from in 2003.
Growing up, Andrea worked at the same company as her father where she worked her way up from a file clerk to doing payroll and accounts receivable. She describes this position as very helpful in terms of developing accounting and finance skills. Throughout high school and university, Andrea was very active in her church youth group and young adults group. She was on the leadership team for both and always completed the promotion for any events they were having. As well, Andrea describes herself as the one in the school group who would always want to put the final report together or make the PowerPoint presentations, as it offered an opportunity to be creative.
After graduation, Andrea travelled to England for a two-week course on becoming a radio DJ and from there, went back to England for a three-month mission trip at the same organization where she ended up helping to reorganize and redesign their website. Andrea feels her time in England was extremely valuable as it allowed her to discover that she preferred the back end of radio – editing audio, reorganizing content, designing websites. When she returned from England, there was a six-month postgraduate certificate program at Conestoga College called Digital Media, where she fine-tuned her skills in Photoshop, Illustrator and other graphics software. "After that, it was just a matter of using the delightful alumni job search feature at Laurier where I landed my first job as a marketing coordinator." This was the first job where Andrea really got to do everything she loved, including organizing and scheduling events, budgeting and Excel tasks, as well as designing graphics and advertisements.
Currently, Andrea is a communication specialist, design and web at the Ontario Universities' Application Centre. When asked what a typical day is like for Andrea she replied, "This is a tough question. I remember asking this very thing in the job interview for my current position, and the interviewers just chuckled a little. There isn't a typical day, they said. I find this to be true. It's hard, because you have to be good at working as an individual, creating deadlines, planning what you want to work on each day. It's also interesting in this job, because I'm part of the communications team, so I have people who edit my work, and also give me suggestions and are my back-up. So, each day is different. Typically I'm working on a larger project or design. If I'm having 'design block', there are also other tasks that I can work on. Basically each week I just have a big to-do list, and can choose each day what I want to do. If I'm feeling creative, I can do creative things. If I'm not feeling the creative bug, I can do other things like excel spreadsheets or web updates. It's great – I like the freedom and flexibility."
Andrea's favourite part about her line of work is being able to be creative. She loves going to work to make things look great (whether it is reorganizing to create structure, refreshing old web/print content, or designing a great layout). "The biggest challenge is having to be creative at the drop of a hat."  Andrea personally prefers to take an existing layout and make it better, albeit starting from scratch also affords unique and enjoyable challenges. She also loves that there is always more to learn, especially with the increase in web/social media activity these days. Right now she is enjoying learning more about User Experience (UX) Design.
When entering this type of position, Andrea notes that the most important skills, interests and attitudes are attention to detail, patience, independence, creativity, listening and thick skin. "You have to be patient because you can work for hours on the same project, just moving one line at a time. You have to be an independent worker, as well as be able to listen to a project proposal and ask the right questions to get the final result your client wants. You have to have thick skin and not take design criticism personally – people don't always envision the final results as you do. You then have to be able to take these suggestions/criticism and come up with a completely new concept."
To get a job in this field you need to have some formal education/training on graphics programs (Photoshop, Illustrator, InDesign, Fireworks, etc.). As well, it is recommended that you take a copywriting workshop and something to do with web writing and accessibility. This career path gives you the flexibility to be a freelance worker and design brochures, posters, website or blogs for clients from the comfort of your own home. As well, you could work in an advertising company doing more specific tasks as an account manager or graphic designer.
In terms of future trends for this occupation, the future seems to be more about the web – design, writing and social media is exploding. User experience is also coming to the forefront, as is web accessibility with the new Accessibility for Ontarians with Disabilities Act (AODA) standards in Ontario. As a result, Andrea believes that print design is going to change drastically. Things are moving online and mobile technology is taking off.
If students are looking to pursue a career in this industry, Andrea suggests subscribing to, and accessing e-newsletters, publications and networking outlets through the Association of Registered Graphic Designers. Volunteering your design services is also a great way to get experience, exposure and build your portfolio.
Andrea's advice for student's success in this career field is to look at things in multiple ways. If you are designing one piece, try doing three completely different designs at the same time and always have an open mind. Her final piece of advice: "Stay the course. No matter what bumps in the road occur, you will eventually find your niche, and love coming to work every day. Use every situation to cultivate and grow your skills, professionally and creatively. Stay on top of current trends."