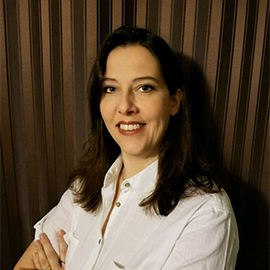 Copywriter (English, BA)
Kim Fielding, Barefoot Creative
Kim Fielding has great advice no matter what career you're looking to pursue; "Fully immerse yourself in your work."
Kim graduated from Laurier in 1998 with an Honours English degree including the Business Administration option. At one time in her life, she considered a career in accounting, but learned she craved something more creative. Kim began a position as an assistant store manager at The Bay, which she quickly discovered wasn't the career path she was meant for. During her time at The Bay, she observed her mentor's extreme passion for the retail industry, which prompted Kim to pursue a career for herself that would foster that same level of passion she witnessed in her mentor.
Kim discovered an opportunity to work in marketing as a copywriter at Barefoot Creative. A friend was moving out west and leaving her position at Barefoot Creative. She phoned Kim and expressed her belief that Kim would excel in the role. Though she wasn't looking for a career in marketing per se, Kim was intrigued by the possibilities. She instantly realized this career path was a much better fit for her skill set and personality. In fact, Kim was involved in a related role with The Cord during her time as a student at Laurier. 
Kim's day-to-day activities vary depending on the client pieces and projects she is working on, but her focus is on developing not-for-profit clients and ensuring lifelong, loyal donors. Kim has worked with many clients over the years including: World Vision Canada, UNICEF Canada, Ten Thousand Villages and The Leprosy Mission (both Ireland and Canada, known as effect:hope). Each day, she participates in core tasks such as writing, editing and proofreading. There is a wide variety of projects copywriters may work on, such as writing fundraising direct mail packages, ads for magazines, TV or the internet. Copywriters must translate an organization's internal language and communications into something the donor or customer can relate to and support. It's about finding the right words to convey the core messages that will achieve the desired goal.
Occasionally, the position can be mentally exhausting as Kim must immerse herself in the story in order to write it correctly and in a way that people will want to read it. Especially when she's writing about issues of poverty or injustice overseas; the stories are heartbreaking and difficult to write.
With a specialty in the non-profit sector, Kim is continuously learning with every new client she has. A notable highlight of her career was an opportunity to travel to India to understand the effects of leprosy and hear the stories from people affected by the disease first-hand. Experiences like this one have allowed her to improve her writing and have enriched her career.
Kim believes in order to pursue a career as a copywriter you need a mix between both English and Business training to cultivate both strategic and creative abilities. In addition, the most important skills are creativity, determination, independence and teamwork. While writing skills can be taught, a solid base of soft skills is a must. To be a successful copywriter you also need to understand that your writing is not for you – you're writing in someone else's voice.
Some key advice Kim shares about pursuing a career in copywriting is to write every day, whether it be in a journal or somewhere else. Writing every day allows you to understand how you write and continuously improve. Secondly, she believes that it is important to gain volunteer experience in the market you are interested in since every company has its specialty. Additionally, valuable resources such from the Canadian Marketing Association (CMA), and with not-for-profits specifically, the Association of Fundraising Professionals (AFP), are excellent places to start your research through the various blogs, seminars and webinars found on these websites.
When analyzing future trends of the industry, Kim says the core elements of communication (addressing needs, wants and motivating action), remain somewhat constant, but what changes are the methods we use to reach people. In a growing digital world, copywriters must learn how to adapt. They are working to stay on top of emerging apps, devices and operating systems and how those updates affect communications. In her line of work specializing in non-profits, IT professionals are now able to track donations online, showing a constant growth of their online content. When writing online copywriters must follow a different style as they would on print. Things like keyword searches are an important part of optimizing viewership. Despite these digital trends, Kim is quick to add that print materials are not dead. They're still very much alive and evolving in their own way!
In the competitive industry of copywriting, Kim finds it disheartening to see agencies 'templating' their work as it compromises the final product and degrades an organization's brand. However, this method is less expensive and thus at times it can be challenging to gain clients.
Kim finds one of the most enjoyable elements of this career is the synergy between the different areas of marketing. For example, she sends her Word document to the graphic designers in another department and together, they create a piece that will help generate donations, sales or awareness.
There are many opportunities for advancement in this career path. Some may choose to remain in copywriting, but this is also the first step towards becoming a strategic creative lead or creative director – either in-house with a particular organization or at an agency, like Barefoot Creative.
Overall, Kim highly advises patience when it comes to your career path, whether it be writing -related, or in another industry. If she were able to travel back in time to her 'student self', she would bestow the following advice: "Don't just look at the salary of a job. Find something you can be passionate about doing every day and make that your career."