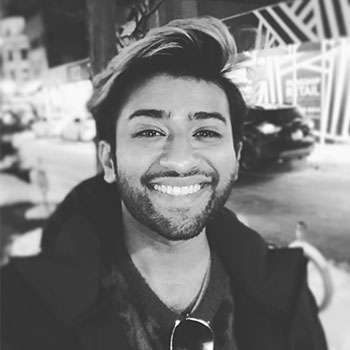 Digital Community Manager (Communication Studies and Global Studies, BA)
Waleed Hafeez, Microsoft
By Theo Zhang, ISWEP Student Co-ordinator
For many international students studying hard, getting a dream job and completing the Canadian immigration process are very important steps in their lives. Yet, these steps are not easy to accomplish despite much sweat and many tears shed. For Communication Studies graduate Waleed Hafeez, this certainly applies. As an international student his involvement, networking and hard work resulted in a successful future in Canada and we asked if he would like to share his experience with all Laurier Golden Hawks.
Waleed started his degree in 2005. Because of his interest in writing, he intentionally enrolled in specific writing courses, focusing on marketing and creative writing. English writing courses are not always easy, and this can be especially true for international students if there is a language barrier. In order to improve his writing skills, Waleed constantly asked for advice from people around him. "I always made myself vulnerable and have someone critique my work." In addition to his academic effort, Waleed was also involved in on-campus opportunities to practice his writing and develop his editorial skills. He was an editor at The Cord and sought out opportunities to refine his self-expression. Waleed was also instrumental in the organizational restructuring of the Rainbow Centre as it evolved from an on-campus club to an essential campus service.
Within one year of graduating, he started his first job at Profile Model and Talent Management as an Agency Manager. He then worked in various roles in analytical, administrative and management capacities. Not every experience in life is seamless, and Waleed experienced some challenges in his career path. In 2016, Waleed unexpectedly lost his job. The job search process was stressful, and he was without meaningful employment for months. At that point, he decided to take a break and use this unexpected free time to pursue his dream: to study the culinary arts. He started the Chef Training Diploma at George Brown College. "We are always busy and finding vacant time is a luxury. So, at that point, I decided to capitalize on this precious time by doing something just for myself." After several months of theory and practical classes, Waleed applied his communication and culinary skills in unconventional ways as a community manager at the food and beverage public relations agency, Branding and Buzzing.
Recently, due to his diversified experience, Waleed was hired at Microsoft as a Digital Community Manager. In this current role, his focus is to empower businesses with Microsoft technologies. He describes it as a challenging role and he must target his messaging to a large range of potential audiences. Waleed feels that it is very inspiring to work with a company that is positively affecting the future.
Being successful in the marketing and communication industry is difficult, especially for an international student. Waleed credits his success to his non-stop effort to practice. He would like to offer three tips that may guide Golden Hawks to success: "Firstly, get involved with campus groups that can help you develop your communication and networking skills. Secondly, be of service. Use your voice to represent the needs of others like you and advocate for them. Finally, take any opportunity you get to try something new – develop a 'Yes, and?' attitude."