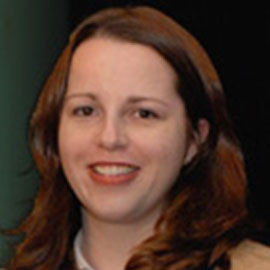 Director of Knowledge (History, BA and MA)
Louise Kearney, Tamarack
Careers often define our sense of self and colour people's perceptions of who we are. When attending social gatherings, one of the first questions we receive from people is "what do you do?" For Louise Kearney, a BA (business administration option) and MA history graduate from Laurier, this question is not easily answered in a quick one-liner. Presently, Louise serves as the director of knowledge at Tamarack – An Institute for Community Engagement. Tamarack is a charitable organization that assists Canadian communities in taking ownership over issues such as poverty, social exclusion and crime prevention to name only a few. Essentially, Louise operates as editor-in-chief of all print and e-publications (such as the website and e-newsletters) helping to build knowledge and ideas to be disseminated to the community.
Although Louise suggests that serendipity steered her career path, there were many initiatives Louise took throughout her BA education at Laurier to help sort out her interests, skills and career possibilities. While financially supporting her studies, Louise worked in customer service at Kmart but went on a search for a second job to increase her income. At a local student employment centre, Louise found a job posting for a research and communications assistant with Lutherwood. Although the posting indicated it preferred candidates at an MA level, Louise "threw [her] hat in the ring", and ended up getting the job! Louise worked full-time over her summer breaks and part-time during her BA studies assisting with a millennial campaign to reduce poverty in the Waterloo Region. She also committed to an array of volunteer roles such as Laurier Students For Literacy amongst other community literacy programs. Halfway through her MA degree, the director of the same poverty campaign asked Louise to come help him develop a business plan for a new national institute – and the rest is history.
"I've always known that I wanted to impact people's lives in a tangible way. Taking business courses at Laurier helped me to realize that while I valued the importance of the lessons I was learning and could apply business principles in the social services sector, making money for someone else wasn't for me." It is safe to say that Louise has found her niche in the not-for-profit sector where she continues to utilize all the skills she obtained from both her history and business education. For instance, Louise's history courses taught her how to effectively pull patterns and threads from volumes of material and how to convey key concepts to a diverse audience. Since not-for-profits need a variety of business skill expertise including finance, accounting and business planning, Louise's business courses have enabled her to apply hard skills such as budgeting and plan development in a humane way to Tamarack projects. The non-profit sector is not just a place for social workers!
Louise cautions that working with a not-for-profit organization does not mean that your workload or hours are less intense then what you might expect from the private sector. "Because it's so mission driven, you might actually work harder. It can also be hard to leave your work when you leave the office because there's always more to do to help those you're trying to serve."
So perhaps a combination of serendipity and hard work has contributed to Louise's current career satisfaction and success. Louise encourages students interested in exploring the non-profit sector to undergo some self-assessment and aptitude exercises and volunteer with philanthropic organizations to really determine "what floats your boat." Also, many non-profits hire students through summer grants and although these summer jobs will not help you get rich financially, you will certainly become rich in experience. Presently there is a strong concern in the not-for-profit community that there are not enough trained young people to take over leadership roles as many senior directors are now approaching retirement age. One might say that if you are a student considering a not-for-profit career, that may very well be serendipity calling.