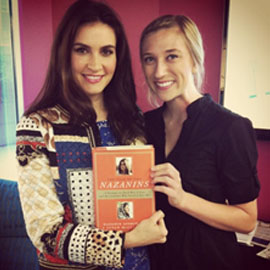 Publicist (Communication Studies, BA)
Sonja Koson, Harper-Collins
The role of a publicist in the publishing industry is fast-paced, ever-changing, and requires outstanding communication skills. As a publicist with one of the world-leaders in English-language publishing, Sonya's days consist of coordinating author interviews in a variety of formats and platforms; preparing communication materials, contributing to social media initiatives, and planning public and private events that range from launches, to book signings and on-stage interviews. She works predominantly with authors who have new releases, including celebrities, to plan effective strategies for their book's release.
Sonya graduated with a BA in Communications and attributes her involvement in the Students' Union (Orientation Team Head Ice, Winter Carnival Executive, Business Promotions All-Stars, Fashion-N-Motion) as ideal stepping stones into the business of public relations. Following graduation, Sonya pursued a postgraduate degree in public relations at Humber where she sought out an internship with CTV working communications. From this experience, she noted her passion for working with media and live events.
After finishing her postgraduate program, Sonya applied to a position out west with Tourism Calgary as a communications specialist. Calgary, at the time, was in a state of tremendous growth and in one year hosted several major events, including the Juno's, the Grey Cup and the Gemini's. Sonya coordinated media and was involved with public relations initiatives for all of the events. While in Calgary, she had the opportunity to work with a wonderful mentor who helped her to develop skills and guided her in public relations work and planning special events. Sonya is still in touch with her mentor today and recommends maintaining communication with any work colleague you are especially inspired by.
After her mentor left Tourism Calgary, and at the suggestion of a friend, Sonya applied to KooL 101.5 in Calgary as a manager of Marketing and Promotions. With little marketing and radio experience, Sonya landed the position and on a steep learning curve learned the ins and outs of marketing a radio station. In this role, she found herself in charge of strategizing and executing promotions, community relations, and social media, as well as managing a team and creating new ways to market the station. After a rewarding experience, Sonya was ready for the challenge of the larger media market of Toronto, and moved back home to Ontario. She reconnected with former classmates and colleagues, and because of her transferable skills in communications and publicity, found herself before long as a publicist at HarperCollins.
As a publicist, Sonya is the liaison between authors, media, the public, and booksellers. Sonya's portfolio typically includes one to two new book releases per week, as well as a few focus titles per busy season (fall and spring) that will require ongoing author care and media coordination. For every title assigned, Sonya strategizes to approach the best media and event opportunities, given the author and book subject matter. Some authors she arranges media for, she never meets, such as Cissy Houston or Gabrielle Douglas, as their interviews are set up remotely from Toronto while they are in New York or LA. Other authors, Sonya spends quite a bit of time with, going to interviews and helping on-site with events. To-date, Sonya continues to work with international human rights activist Nazanin Afshin-Jam, The CBC's Amanda Lang, and The Who's Pete Townshend. Her ongoing authors of course are more time-consuming, require larger media attention and will result in larger sales. In addition to ongoing projects, some require revisiting depending on current events presented in the media. If an event deemed newsworthy occurs that relates to a past project, Sonya serves as the connection between the author and the media to quickly arrange interviews or events.
Sonya's advice for someone looking to get into publishing is to keep up with the changing landscape and trends of the industry. More than ever, the traditional book is being honoured but the e-book and online publishing is also forging ahead. Sales are split between hard and digital copies, meaning the two will have to learn to co-exist, and each will find its niche market. Likewise, she notes that being a publicist means having to stay on top of ever-changing media platforms and contacts. Beyond that, she highly suggests that someone looking to become a publicist be detail-oriented, a communications chameleon, organized, persistent, personable and outgoing with a willingness to reach out to others.
Sonya also advises, "Never turn down an opportunity, especially to network. You never know until you try whether you will enjoy something, or even be any good at it. Also, someone who is hardworking will go miles further than everyone else."