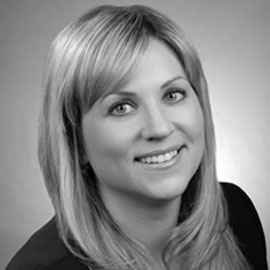 Vice-President, Public Relations (History, BA)
Sarah Tuite, NATIONAL Public Relations
When I asked Sarah Tuite, a vice-president at Canada's largest public relations firm, NATIONAL Public Relations, if her career was stressful, she politely laughed, explaining that a career in public relations "can be extremely stressful and time management is essential for people considering a career in this field."
After graduating from Laurier in 2000, Sarah Tuite pursued a Master of Arts degree at the University of Toronto, followed by a Public Relations certificate at Humber College.
"Obtaining an undergrad degree in any field complemented with a PR Certificate offering an internship would increase your odds of finding employment," explained Tuite. As the PR Certificate becomes more popular, employers are more likely to hire grads who have obtained it. Completing a PR certificate is also a great way to build essential career skills, build network connections and obtain an internship, which can often turn into a full-time entry-level position.
As vice-president at a large PR firm, Tuite encourages aspiring PR grads to begin their career in an agency environment because "you will learn so much in a few years and gain valuable experience in different areas." Working in an agency environment can be more stressful and mean longer hours than working for a corporation but large firms offer a fast-paced working environment, resources for training, and opportunities to work on a variety of clients.
"When working with media, you must adhere to media deadlines. You need to move quickly and you have to be tapped into what is happening in the industry, you have to be readily available at all times," explained Sarah. "In an agency environment clients lean heavily on their consulting partners, particularly when working on an issue or crisis file."
Despite the stressful agency environment Sarah works in, she loves the challenge and variety her career offers her everyday and constantly feels rewarded when she can help clients solve communications issues.
Although public relations can often be thought of as a glamorous and glitzy job to be held only by social butterflies, Sarah told me that "the industry attracts both introverts and extroverts."
The ability to exude confidence and build your personal and professional network is important, but all aspiring PR professionals, "should love writing and understand you are going to be doing a lot of it."