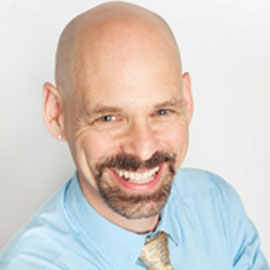 Consultant, Chief Insight Officer (MBA)
Marc Hurwitz, FliPskills Consulting and Assistant Professor of Finance, Laurier
Marc Hurwitz graduated from Laurier with an MBA in 2000 and the Gold Medal. Currently, Marc is the chief insight officer at FliPskills Consulting and is also an assistant professor of Finance at Laurier. FliPskills is an HR innovation company that helps to train and develop leadership, followership and peership in employees. The company also offers consulting services to build better partnerships, invigorate teams and equip organizations for change.
Leading up to his current position, Marc gained experience working as a trainer in HR and then a marketing executive with Manulife Financial. As a collaborative leader in charge of product development, web experience and product communication, Marc oversaw many large projects that helped build Manulife's reputation in the Canadian market. It wasn't until 2004, when Manulife had acquired John Hancock Insurance that Marc's interest in consulting began. Looking over many essential integration systems, Marc spotted gaps and errors in many employee projects and felt that acquiring his MBA would aid him in identifying solutions to these very complex system and workplace challenges.
Marc continued to work with Manulife until 2006, when he decided to leave, obtain his PhD, and develop his consulting practice. In 2009, the research led to the launching of FliPskills Consulting. Though happy at Manulife, starting his own business gave him flexibility, satisfaction and a sense of achievement. It also gave him the opportunity to interact with a diverse group of clients, which is a feature of his consulting work that he thoroughly enjoys.
Marc advises students who are looking to get into the consulting field to ensure you are achieving good grades, but not at the expense of building your resumé, as consulting firms are also looking for employees who are well rounded and involved in their community. Consulting is a career that requires you to be very competent and adept at selling yourself in order to ultimately sell your solutions and service (and these skill sets are often honed in extracurricular and volunteer outlets). Marc also pointed out that dedication is key to success as consulting roles can demand long work hours. In addition, the problems you are expected to help solve are extremely tough and your solutions may not be met initially with open arms, therefore you need to be able to willingly accept criticism.
Entering the world of consulting comes with many rewards as well as risks. Some of these rewards include the lifestyle, as it gives you a lot of autonomy, especially if you are very self-directed and focused. The consultant community is also filled with a lot of interesting people, co-workers and clients. Consultants get to work diverse types of projects, often with many different companies – meaning the work is never dull.
Risks associated with consulting are similar to risks in any business career area. There are good times when you are inundated with contracts and there are bad times when cash inflow may not be as you expected. Furthermore, it can be challenging to have clients truly understand the value you bring to the table because 'consulting' is not a tangible good. "Therefore you have to be really good at what you do" and salesmanship is key. Consulting roles may also be more independent or based in really small teams so this may be challenging for people who are more extroverted and socially inclined.
Consulting also requires specialization; it is important to research key consulting areas and determine which ones ignite your interests so that you will excel in that key area. Some of the top areas for consulting are in finance, marketing, human resources and corporate governance but consulting exists in every area of business; trying to market yourself as a consultant in all areas will not be as effective as marketing yourself in one defined area.
Marc noted that consulting tends also to be an area of education inflation, meaning in order to move up the chain you need experience and graduate work. Acquiring an MBA or an MAPP for example will help propel you forward. Marc also recommends McKinsey Quarterly, a business journal focused on the consulting field, an insightful read that students might find useful. Marc and his partner also belong to many associations such as the Society for Industrial and Organizational Psychologists (SIOP) as well as Human Resources Professionals Association Canada (HRPA) and Society for Human Resource Management (SHRM), a particularly good organization to belong to if your career takes you to the United States for HR.