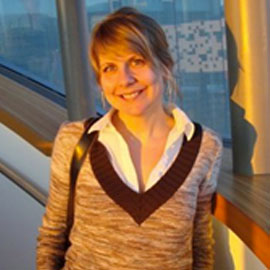 Consultant, Sustainable Food, Farming and Environment (English, BA)
Melissa Benner, West End Food Co-op
After receiving her Bachelor of Arts in English from Laurier, Melissa Benner went on to obtain her Master of Arts in Communications at Carleton University. Currently, she is working on her Ryerson Food Security Certificate. With all of this education, it is no surprise that Melissa has a great career. She is a consultant in the field of sustainable food, farming and environment and currently works as a community organizer with the West End Food Co-op located in Toronto. On top of all of this, she also teaches and coordinates an online college certificate in Sustainable Local Food.
Melissa has always been interested in community and international development, however it did take her a while to decide on her chosen field of work. After receiving her Master of Arts, she pursued international work and travel, started completing the Ryerson Food Security Certificate and began working on her family farm, thus beginning her career in the sustainable food and farming field. By living in Toronto, Melissa has had the opportunity to work in a number of contract positions as well as consultancy work in the food movement, all of which has led her to her current line of work. In Melissa's current job, her daily responsibilities include networking with community organizations and leaders, as well as organizing events and meetings, developing and facilitating workshops, promotions and website/social media design and volunteer management. In addition to all of these responsibilities, she also has her work with the college, which includes many tasks such as, hiring instructors, responding to student requests, promotions, teaching and course development.
When asked what education is typically required to enter into this field, Melissa stated that having a masters definitely helps, especially in a field such as environmental studies or geography. Focusing your research in school on food and the environment is critical as well. When in school, connecting with staff and professors who are involved in research in this area will help you to network in the community and gain a better understanding of the field. Melissa also suggested identifying hands-on learning opportunities within food and garden education jobs or interning/volunteering on a farm. Organizations like CRAFT Ontario can help lead the way.
One of the major frustrations that Melissa spoke of in her line of work was the lack of overall financial stability, as well as job security. Many of the organizations do not have large budgets, and do not offer benefits. Also, many of the jobs are contract based which can lead to a lag period between positions. She also mentioned that to work in this field you need to have an entrepreneurial spirit and the ability to see possibilities for work and finding funding. These challenges are also very exciting at times!
If you are a student interested in getting involved in this field of work, it is always useful to speak to someone already involved. Melissa also suggested that it is helpful to volunteer with organizations which will enable you to network in your local community. Good Work Canada is a resource Melissa sees as being a great way to find food-oriented or volunteer positions!