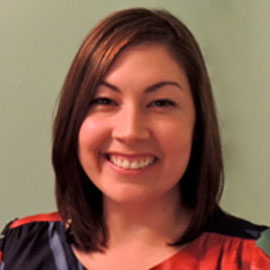 Assistant Professor and Program Coordinator (Indigenous Studies and History, BA)
Lianne Leddy, Wilfrid Laurier University
HBA, History and English, Laurier, 2005
MA, History, Western University, 2006
PhD, History, Laurier, 2011
Lianne Leddy chose to pursue her doctorate in history at Laurier to explore the story of her community in more depth and to pursue an academic career in history and Indigenous Studies. She is Anishinaabe kwe from the Serpent River First Nation and grew up in Elliot Lake, Ontario. Since completing her PhD in 2011, Lianne worked at the Memorial University of Newfoundland as an assistant professor in the Department of History, and she was excited to join Laurier's faculty of Indigenous Studies in the fall of 2014 as the Brantford campus' first full-time hire in Indigenous Studies. 
When asked why she chose this academic career path, Lianne explains that her love of research was what guided her decision making. She loves being able to take a research question and, using archival work and interviews with knowledge holders, discover the answer. She finds it both rewarding and challenging to be able to independently decide which questions she asks and how she conducts her research. Teaching Indigenous history and contemporary topics from an Indigenous perspective enables her to teach and engage students in a learning process very different from their previous experiences in the education system. Indigenous students can see themselves reflected in the curriculum and non-Indigenous students can learn about Indigenous perspectives, making the material more meaningful as a result.
It is extremely significant for Lianne that she is able to incorporate her culture into her research and work with Indigenous knowledge holders, in order to reflect those voices and perspectives. She introduces and affirms an Indigenous perspective in the classroom as part of her teaching methods, using cultural examples to help students to understand issues by discussing importance of oral history and drawing on her research with her own community as a real-life example.
Her path to her current career included an undergraduate degree in History and English at Laurier and her Masters in History at Western University, which she obtained in 2006. She advises that when pursuing a doctoral degree and an academic career, one shouldn't do all of one's degrees at a single institution because it is beneficial to be exposed to a broad range of academic ideas by attending different institutions. Lianne credits her undergraduate work at Laurier with preparing her well for graduate school. She was thoroughly challenged as undergraduate, which developed her abilities to form complex ideas, write well, and engage in discussions in the study of history.
But a good university experience isn't the only key to unlocking the door to grad school. Lianne recommends that applicants in History engage with their undergraduate historical society and participate in community work. It is important to show that one is community-minded, whether the work is paid or unpaid, and to remain dedicated to something one is involved with. Later on as a graduate student, it can also be helpful to become involved with professional organizations such as the Canadian Historical Association and the Native American and Indigenous Studies Association. Laurier participates in the Tri-University Graduate Program in History, and through this program Lianne learned from scholars at the University of Guelph and the University of Waterloo. Overall, graduate school can be a very solitary experience. Lianne says that "one needs to try to find and connect with the community." As an undergraduate student she connected with the local Indigenous community and the Indigenous community at the University of Waterloo and found it was a great experience, and therefore in graduate school she also made efforts to build community. She advises that graduate students try to make friends with different people, attend as many presentations and guest speakers as possible, and to take every opportunity to learn more than just their specific subject matter. There is a wonderful sense of accomplishment once the degree is completed. Success in graduate school heavily relies on developing skills, such as the ability to adapt, working hard, having a tenacious attitude, and above all else, maintaining a strong support system of family and friends. Additionally, graduate school further develops many skills such as critical thinking, writing in-depth research papers, and the ability to accept criticism. Graduate school allows one to explore subject matter in more depth and to more effectively engage in discussions and debates in seminar-style classes. It also enables one to research, write, and have peer-reviewed publications in respected professional journals and edited collections that are notable to hiring committees if one is pursuing an academic career.
Mentors helped Lianne along the way to guide and motivate her through challenges. Her graduate supervisor, Susan Neylan, guided her through academic work and presented her with opportunities to attend conferences and to network with other academic professionals. Jean Becker was also very encouraging in her decision to join the Indigenous community at the University of Waterloo and was a mentor both personally and professionally. Finally, Lianne says that her late grandmother, Gertrude Lewis served as her main role model, instilling in her a sense of community mindedness, and credits her with telling her the stories she would one day research and share with others.
Although Lianne has experienced success throughout her career, she has also endured difficult and challenging times. She finds it hard to be far from her home in Northern Ontario, and she also faces many of the oppressive stereotypes about Indigenous people. In the scholarly profession, one needs to talk about Indigenous history and traditions, and defend their inclusion in one's discipline. Lianne believes that one can rise above the challenges. One needs to hone an inquisitive mind, be eager to explore and learn, have a desire to write and publish articles, and to be passionate about an idea or topic. In order to be successful, she warns, one must truly love one's discipline. Lianne's future aspirations are to publish her monograph Cold War Colonialism: The Serpent River Anishinaabek Confront Uranium Mining, research Indigenous women in the post-war period, and to continue working as professor while pursuing the tenure track.