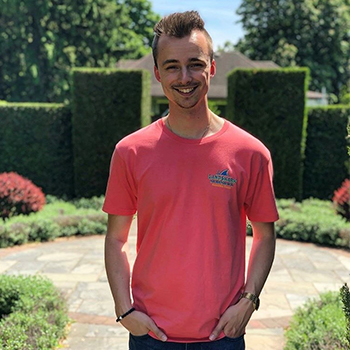 Co-ordinator, Off-Campus First Year Initiatives (Criminology, BA)
Mitchell Higgins, Wilfrid Laurier University
Mitchell Higgins graduated from Wilfrid Laurier University in 2018 with an Honours Bachelor of Arts in Criminology and a minor in Law & Society. Initially, Mitchell was interested in applying to law school so that he could become a lawyer. This changed in his final year of university, as he became more involved and came to the realization that it would be his dream to work at Laurier.

Mitchell works as the Co-ordinator, Off Campus First Year Initiatives and oversees the LOCUS program. The LOCUS program was implemented for students experiencing their first year of university while living off campus. Students can register and receive the same supports, transitional services, and resources that students would get in residence, making it a valuable asset in their transition to Laurier. Mitchell oversees all aspects of the program and manages the don teams on both the Brantford and Waterloo campuses.

Something that Mitchell enjoys about his job is the variety that every day brings. A day in the life in Mitchell's job can look very different each day. For example, an average day may involve starting in Waterloo with meetings with the LOCUS dons, and then returning to Brantford for additional meetings and program planning both daily and more long term. Time is always set aside to do finances and manage emails and other administrative tasks. Mitchell finds that a good amount of his time is spent in collaborative meetings, and t when students are on campus, he is hosting events, running LOCUS programming and finding ways to get LOCUS involved in Laurier activities (such as the soup lunch at the Indigenous Student Centre on campus).

When asked if Mitchell likes his job, he states, "Yes, 180%." He goes into further detail stating that it's special for him because when he was in first year, he was registered with the LOCUS program and now that he is running it, he feels like he has come full circle. He enjoys that he has the opportunity to continue to be part of the Laurier community and work with phenomenal student leaders on both campuses. His favourite part of his job is managing his don teams, as he has been able to witness them develop a passion for student affairs and their students. He has found that year after year the teams on both campuses are extremely tight-knit and morale is high on both campuses, making his work environment very uplifting and enjoyable.

A challenge that Mitchell has noticed on the job is scheduling everything that needs to get done. He works with a large team of students, all who have other commitments and full-time course loads. He occasionally has dealt with student crises, and it is his job to take action, sometimes immediately if it is time-sensitive. The last challenge that Mitchell discussed was discouragement. You can put a ton of effort into putting on events, but if students don't show up it can be hard. To combat these challenges, Mitchell recommends a couple of skills that would be an asset while working in this role. The first is organization, as there is much that happens behind the scenes and you must be motivated to get everything done on schedule to ensure the smooth execution of programs. The other skill that Mitchell recommends is perseverance. Sometimes things come up and don't go as planned and, in those cases, you have to be able to push through and look ahead to what is happening next.

If someone is interested in this role, he recommends getting involved in anything and everything at the post-secondary level. Mitchell also reiterated the importance of gaining transferable skills from the various opportunities he was involved with during his time at university. He believes that the main reason why he was selected for his position was because of the various volunteer and extra-curricular experiences that he gained through his time as a student. When you volunteer and spread roots, you gain a deeper knowledge of how certain programs work, allowing you unique knowledge into all of the various parts of a university that make up the community, which you can utilize in this type of role.